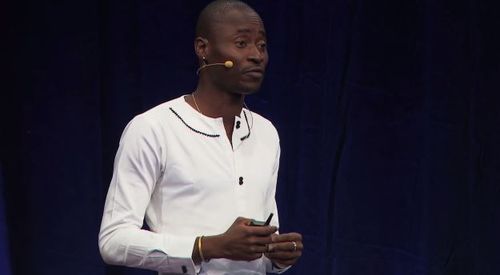 In 2004 in an appearance on "New Dawn with Funmi," a morning talk show program on Nigeria's largest television network, Adebisi Alimi announced to the world that he was gay. The 29 year-old was an aspiring stage performer studying acting at the University of Lagos and, facing blackmail, he made the decision to come out.
The fallout following his announcement nearly ruined his life. Shunned by friends and family, Alimi was repeatedly harassed by law enforcement and left the country after an attempt on his life. In spite of the hardship that he's faced, however, he sees his time in Nigeria as having been invaluable.
"My story is not a story of a victim," he told the BBC in 2007. "It's a human story."  
Since then Alimi's become a vocal LGBT-rights activist and HIV educator based out of the United Kingdom. In an interview with NPR's Goats & Soda Alimi explained his complex relationship to his home country particularly in light of a version of the draconian anti-homosexuality bill currently working its way through many African countries' legislative systems. In Alimi's opinion Nigeria's anti-homosexuality bill will be, in the long term, a boom to the fight for LGBT equality.
"I see the law as a catalyst for change for good in Nigeria," he explained. "You don't understand what it is like to fight a beast that you cannot see."
"Before the signing of that law, between 95 and 98 percent of Nigerians were in support of it. The latest poll says 88 percent of Nigerians now support the law.

That's a 10 percent drop. Some people who are not LGBT are now saying, 'Did we just support a law that criminalizes people … for falling in love?. [When] you see that your uncle or cousin is gay, it kind of changes the conversation."
Check out the fulll interview here. 
And watch Adebisi Alimi's TEDxBerlin talk about the next steps in fighting the HIV/AIDS crisis in Africa AFTER THE JUMP…