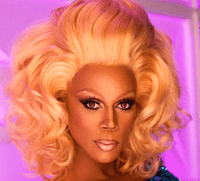 It's not often that one thinks of RuPaul as being jacked into the tech-bubble, but the reigning queen of all things drag recently sat down with Engadget's Joseph Volpe to gab about some of the queerer parts of Silicon Valley. More broadly RuPaul shared his thoughts Facebook's algorithmic deletion of drag queens, 'Drag Race's' dependence on online streaming, and the significance of Tim Cook's coming out.
"You know, people talk about equality in our culture, and it's based on a kindergarten primary idea of what fairness and equality is," RuPaul said of Cook's recent announcement. "But it doesn't get updated as we get older."
Ru continued:
"You know, [if] somebody who's straight behaves a certain way, nobody bats an eyelash. But if a gay person does the exact same thing, people are like, "Oh my god. It's revolutionary!" [But] it's the exact same thing! And the same is true in any business. Gender plays a huge role in how we see people, how we interpret what they say, whether we know it or not. Most people don't know it. So I applaud him. I think, "Right on!"
Ru also shared his thoughts on "gaymers," and his new mobile game Dragopolis. You can check out the full interview here.