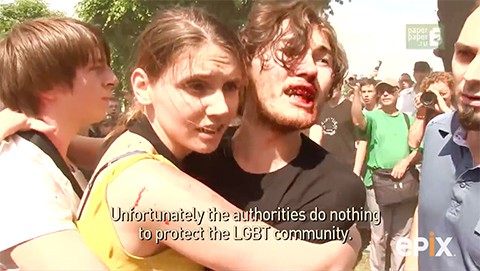 Anti-LGBT violence and harassment have increased dramatically in Russia since the country passed an anti-gay "propaganda" law in June 2013, and President Vladimir Putin's government isn't doing anything to stop it, according to a new report from Human Rights Watch.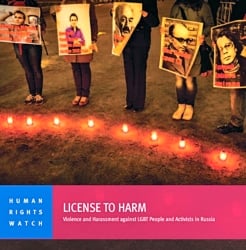 The report, titled "License To Harm: Violence and Harassment Against LGBT People And Activists In Russia," is based on 94 interviews with people from 16 cities and towns in Russia. 
The interviews were conducted in the leadup to and aftermath of passage of the law, which bans distribution of information about LGBT relationships to minors and "effectively legalizes discrimination based on sexual orientation," according to Human Rights Watch. 
One Russian LGBT group cited in the report found that hate crimes have increased more than ten-fold in the wake of the anti-gay law, with 300 attacks in the last year, BBC News reports. 
From Human Rights Watch: 
All over Russia there has been an increase in attacks by vigilante groups and individuals against LGBT people in the past two years. There has also been an increase in attacks on LGBT activists, and anti-gay groups have used the 2013 law to justify mounting campaigns of harassment and intimidation of LGBT teachers and other school or college staff to get them fired from their jobs.

Although Russian law enforcement agencies have the tools to prosecute homophobic violence, there appears to be no will to do so and no policy or instructions from the leadership to take homophobic violence seriously. Aside from several isolated investigations, the authorities have done little to hold assailants accountable.

Instead of publicly denouncing anti-LGBT violence and rhetoric, Russia's leadership has remained silent. In some cases public officials have engaged in explicit anti-LGBT hate speech.
The report documents anti-LGBT vigilante groups that have sprung up across Russia, luring gay men and teens on the pretext of dates before viciously assaulting them and posting videos of the attacks online. It also chronicles attacks on public pro-LGBT events, including just about every one in the last year, as well as "smear campaigns" designed to force LGBT people and their supporters to resign from their jobs — most of which have been successful. 
The report finds that Russian authorities have largely overlooked anti-LGBT hate crimes, ignoring motives and failing to properly investigate, while blaming victims and not adequately protecting them from perpetrators.   
Finally, the report issues a series of recommendations to Russian authorities, which Human Rights Watch summarizes as follows: 
Three key steps Russia needs to take are: first, for its leadership to publicly condemn such violence and commit to ending and preventing it; second, for its law enforcement agencies to start investigating and prosecuting homophobic violence as hate crimes under the law; and finally, the Russian government should immediately repeal the anti-LGBT propaganda law, which implicitly condones and encourages such violence in the first place, as well as harms children by denying them access to essential information.
To read the full report, go here.