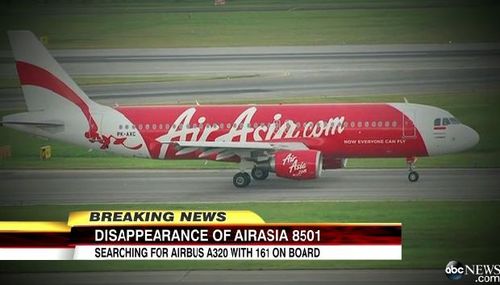 The search for an AirAsia flight that disappeared midway through its flight from Surabaya, Indonesia to Singapore on Saturday has been suspended for the night, BBC reports: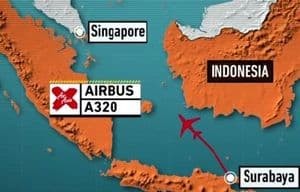 AirAsia's Chief Executive Tony Fernandes, who has flown to Surabaya, said: "We don't want to speculate but right now of course the plane has been missing for 12 hours and there's a deep sense of depression here."
The flight left Surabaya in eastern Java at 05:35 local time (22:35 GMT) and was due to arrive in Singapore at 08:30 (00:30 GMT).
The missing jet had requested a "deviation" from the flight path to avoid thick storm clouds, AirAsia said.
ABC News adds:
The flight manifest for the jet showed there were 155 passengers on board plus seven crew members, although the Indonesian transport ministry only reported six crew members.
Of the passengers, 149 were Indonesians, three were South Korean, and there was one traveler each from Malaysia, Singapore and the United Kingdom, according to AirAsia.
AirAsia said the crew members consisted of six Indonesians and one person from France.
Watch an ABC News report on the story, AFTER THE JUMP…
I am touched by the massive show of support especially from my fellow airlines. This is my worse nightmare. But there is no stopping.

— Tony Fernandes (@tonyfernandes) December 28, 2014