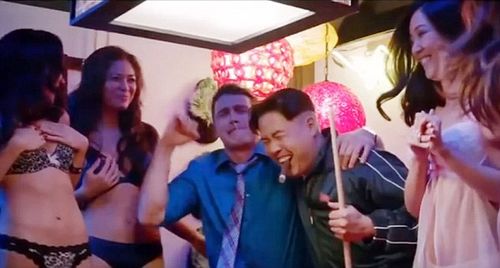 In an interview with The Sunday Times, Sony staff revealed that the version of The Interview released online and in select theaters is actually a "redacted version" of the James Franco and Seth Rogen comedy film, with certain controversial scenes edited out on the orders of Sony's Tokyo head office. 
The Daily Mail reports:
Among other details edited from the film include North Korean military insignia, which was originally visible on soldiers' uniforms in the film. 
But the most controversial and wide-sweeping edit was the removal of a 10-minute scene depicting the aftermath of a gay orgy between Kim Jong-un (played by Korean-American actor Randall Park) and the television presenter Dave Skylark played by Franco.
According to the leaked script, the scene was subtle. 
'Dave and Kim are in a bed naked, with the four women,' it reads. 'They're all playing MORTAL KOMBAT.'
In the edited film, a more toned down scene involving the new friends shows them playing around with scantily clad women.  
Another scene edited out of the film was a conversation between Rogen and Franco about Kim Jong-un's sexual abilities with Rogen saying the dictator could "suck a 12 inch c**k while ice-skating backwards."
Sony staff added that they hope the scenes edited out will be restored on some type of "director's cut" released at a later date. 
Have you seen The Interview yet? Did you enjoy the film or think it could have used more Franco-Kim lovemaking?