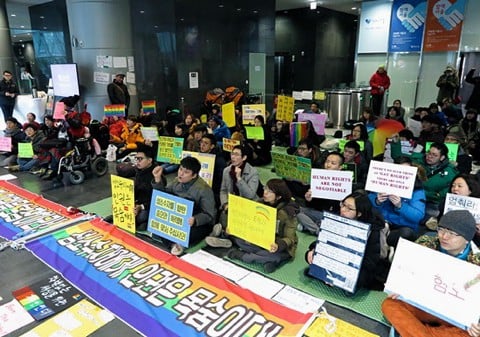 South Korean LGBT activists began a sit-in at Seoul City Hall over the weekend to protest the mayor's decision to delay a proposed human rights charter because it includes language banning discrimination against gays. 
Seoul Mayor Park Won-soon (right), a former human rights lawyer, made headlines when he expressed support for same-sex marriage earlier this year. But Won-soon, a potential future presidential candidate, reportedly caved to political pressure from the right, including calls for his impeachment, over the human rights charter.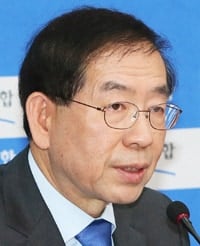 The Seoul Municipal Government appointed a Citizens Committee of 164 experts to draft the human rights charter, which fulfilled a 2011 campaign promise from Won-soon. Last month, despite intense opposition from anti-gay groups, the committee voted to approve the final draft of the charter, which states that a person "has the right not to be discriminated against based on his or her sexual orientation or sexual identity." 
However, the Seoul Municipal Government subsequently announced it was indefinitely delaying the charter because the document had created "social conflicts" and because the gay nondiscrimination clause wasn't approved unanimously by the committee — even though that requirement had never been previously stated. According to Rainbow Action, a coalition of 20 LGBT groups, Won-soon later told a group of pastors, "As the Mayor of Seoul, I do not support homosexuality."
On Saturday, Rainbow Action announced it was occupying Seoul City Hall to demand that the human rights charter be proclaimed on Wednesday, Dec. 10 — Human Rights Day — as originally scheduled. The group is also asknig people to support them by contacting Won-soon, who is sensitive to international pressure. From Rainbow Action:  
The Mayor's denying the Charter for the reason that it states the non-discrimination principle on the basis of sexual orientation and gender identity is an act of discrimination by the State that does not comport with the Constitution and the National Human Rights Commission Act, as well as the international human rights law. The Charter must be proclaimed, as is originally scheduled on December 10, 2014, Human Rights Day, in Seoul.

We, LGBT activists and supporters, now occupied the City Hall to protest against the discrimination. Mr. Park has never responded yet to our repeated requests to have a meeting. We demand a meeting with the Mayor, Mr. Park Won-Soon. We demand him to proclaim the Charter.

Please show your support by sending messages to the Mayor of Seoul Metropolitan Government, Mr. Park Won-Soon (Twitter @wonsoonpark, Email wonsoon@seoul.go.kr, Fax +82-2-2133-0797 (Seoul Human Rights Center)), urging him to proclaim the Charter and observe the duty to protect LGBT people from any forms of discrimination and violence. 
To read and share the action alert, go here. 
Watch video of the sit-in, AFTER THE JUMP…