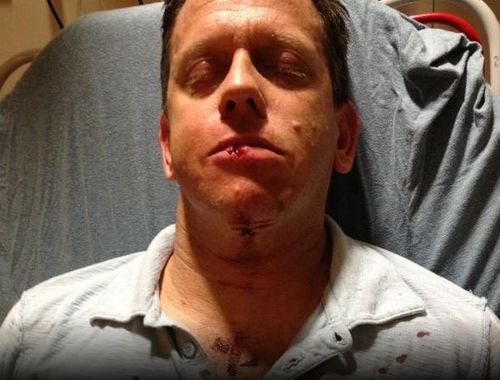 An Army veteran will serve 10 years of probation for brutally assaulting two gay men on Pride weekend in downtown Austin in 2012. 
Lambert Borgardt (right), who pleaded guilty Wednesday to aggravated assault, must also complete 200 hours of community service. Borgardt faces trial on a second count of assault in connection with the attack next year. 
Andrew Oppleman (above) and his friend, Nick Soret, were in line at a pizza truck near Austin's gay entertainment district on Sept. 21, 2012, when Borgadt reportedly thought Soret was checking him out. Borgardt became enraged and punched both men in the face.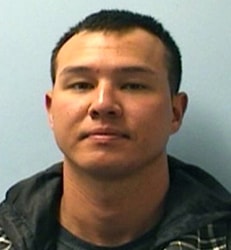 Oppleman lost nine teeth in the attack, which was captured on surveillance video, and Soret suffered a broken nose. Oppleman and Soret told police they felt they were targeted due to their sexual orientation, but the case wasn't prosecuted as an anti-gay hate crime.  
In court on Wednesday, Borgardt apologized for the attack, according to a report from KXAN-TV: 
"I apologize from the bottom of my heart, and I'll do whatever it takes, whatever I can, whatever can work to pay you guys back for that," said Borgardt.
However, Oppleman told KVUE-TV he doesn't believe Borgardt's apology was sincere: 
"The only part of closure I feel may not be complete is the perpetrator, Lambert Bogardt, his lack of showing true remorse for what he did, but more remorse for the predicament and the situation he's in," said Oppleman.
Borgardt's attorney, Bill Hines, said post-traumatic stress disorder could have been a factor in the attack:
"We're pleased that the judge did the difficult work of balancing the really serious injuries with the incredible lifetime of honor and service [Borgardt] had in the military," said Hines.
The Austin LGBT community held a march against hate crimes in response to the attack, and a local dentist provided Oppelman with free reconstructive surgery. 
Watch the reports from KVUE-TV and KXAN-TV (which includes the surveillance video), AFTER THE JUMP …