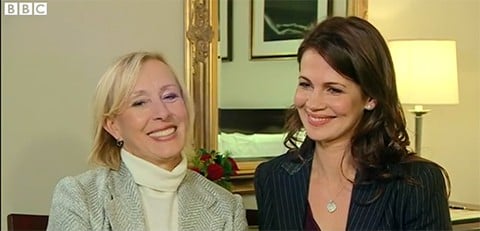 Martina Navratilova married Julia Lemigova yesterday in New York City, The Huffington Post reports. The pair had been dating for eight years when earlier this year at the U.S. Open, in which Navratilova was competing in the doubles competition, Navratilova popped the question to Lemigova, a moment that was broadcast on the jumbotron to cheers from the assembled spectators. 
Navratilova and Lemigova spoke to the BBC shortly after saying "I do." Navratilova for her part commented that the experience of being able to marry the woman she loves "is just really odd."
"I'm 58 years old – I got married for the first time! It's about time. Growing up as a gay woman you just don't ever think about that. And then about ten years ago I thought 'You know, I think within 10 years gay marriage will be legal – and here we are 10 years [later], making it legal."
Navratilova made waves when she came out as bisexual in 1981 at the top of her game, so to speak. Despite the fact that over thirty years has passed since that time and LGBT civil rights have progressed leaps and bounds, no male tennis star has yet to come out, a fact that Navratilova also finds odd: "They're so far in the closet I don't even know who they are. It's funny, sport has been at the forefront of so many civil rights issues, but it's been not great on the gay rights issue."
Navratilova won a total of 59 grand slams in her professional career and holds the record for the longest winning streak (74 matches) and is tied for most Wimbledon titles won (20) with none other than out activist and tennis legend in her own right Billie Jean King.
You can watch Navratilova's marriage proposal from earlier this year, AFTER THE JUMP…
And you can watch the happy couple talk to the BBC after their nuptials HERE.