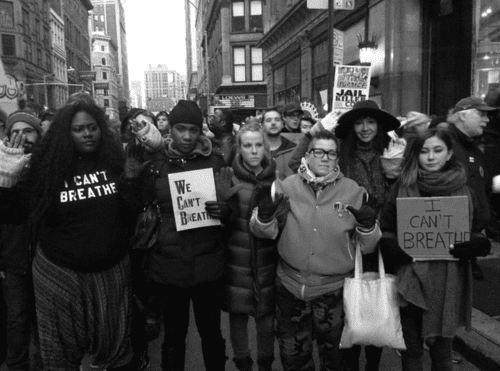 The ladies of Orange is the New Black were spotted alongside thousands of protesters on the streets of New York City yesterday for the #MillionMarchNYC demonstration protesting police violence and the grand jury decisions surrounding the deaths of Michael Brown and Eric Garner. 
Vicky Jeudy, who plays Janae Watson on the acclaimed Netflix series, posted the above photo on Twitter. She was joined by Jackie Cruz (Marisol Gonzales), Kimiko Glenn (Soso), Lea DeLaria (Big Boo), Danielle Brooks (Taystee), and Emma Myles (Leanne Taylor). 
In a separate rally in DC yesterday, the Rev. Al Sharpton led thousands of demonstrators down Pennsylvania Ave demanding better oversight of policing. 
More photos and video from the rallies, AFTER THE JUMP…
This image – Eric Garner's eyes – from #MillionsMarchNYC #ICantBreathe pic.twitter.com/Kj6fzb25OK

— Gen Knoxx (@GenKnoxx) December 13, 2014
Cast of @OITNB at #MillionsMarchNYC. Photo via @COLLECTIONSBK pic.twitter.com/uHNlUAomjY

— NYCLU (@NYCLU) December 13, 2014
This is so moving… look at this time lapse of #MillionsMarchNYC: http://t.co/9IDMntQ0l5 That is love. Beautiful. #BlackLivesMater

— Anil Dash (@anildash) December 14, 2014
Demonstrators march to #NYPD headquarters to protest police brutality #MillionsMarchNYC http://t.co/mcniO4H0FM pic.twitter.com/qxSQ4BKXoK

— Wall Street Journal (@WSJ) December 13, 2014
This just went by my house. College & Alcatraz right now… #berkeleyprotests pic.twitter.com/vfJr60KGdn

— Andrew W Chamings (@AndrewChamings) December 13, 2014
The size of the D.C. march is already in the thousands http://t.co/pTZKJHgjRO #justice4all pic.twitter.com/MwsMhfOpAq

— Mashable (@mashable) December 13, 2014
Kicking off today's #Justice4All march rally earlier in Washington, D.C. today pic.twitter.com/5dnyEsaAow

— Reverend Al Sharpton (@TheRevAl) December 14, 2014