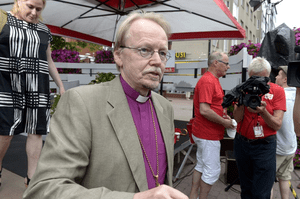 Almost 7,800 Finnish citizens resigned from the Lutheran church after the government voted to legalize same sex marriage and Archbishop Kari Mäkinen immediately lent his vocal support for the vote reports The Independent. In the short amount of time between the vote passing on Friday Nov. 28 and midnight, Saturday Nov. 29, 7,800 church members completely resigned from the church primarily through a website aimed at fast tracking the process reports YLE Uutiset. A large number of commenters wrote on the site that it was Archbishop Mäkinen's comments that caused them to resign. 
The mass resignations could significantly affect the Church's revenue, as members who resign no longer have to pay taxes to the church-its main source of income. Immediately following the Friday vote that legalized same-sex marriage in Finland, which will also allow gay couples to adopt children and share the same surname, Makinen issued positive commentary about the new legislation and attempted to calm church members fears.
Said Mäkinen:
"I know how much this day means for rainbow people, their loved ones and many others. I rejoice with my whole heart for them and with them…I would like to warmly thank the proponents of the law, and all those who have taken part in the debates, regardless of position.
"There are many who are now disappointed and feel concern. This is understandable. Their experience will be respected, and the Church will listen to their fears in the future, as well as in society as a whole."
Mäkinen assured church members that their marriages are not cheapened because of the passage, and that neither the Church's faith nor human dignity will suffer. However, Finland's Christian Democrat leader Paivi Rasanin vowed that she intends on fighting against the legislation. Should the measure stand, the first gay marriages in Finland are set to occur in 2017.