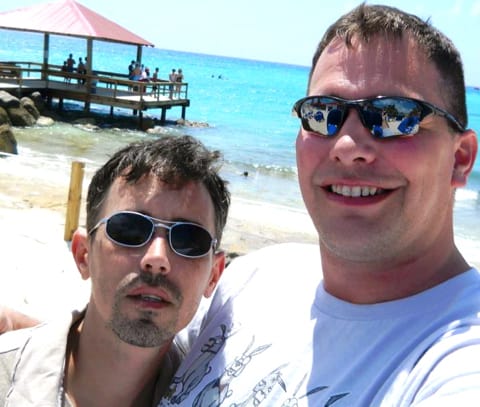 Given a choice between losing his driver's license and complying with the letter of Florida's same-sex marriage ban, Daniel Wall-DeSousa decided he'd walk to work or ride the bus. 
Wall-DeSousa cut his license in half, as instructed by the Florida Department of Motor Vehicles, and mailed it back to the agency's Tallahassee headquarters.  
"My driving privileges have been canceled indefinitely," Wall-DeSousa told The Orlando Sentinel. "I made a decision I would rather give up my driving privileges than my identity."
Now, Wall-DeSousa and his husband, Scott Wall-DeSousa, have filed a federal lawsuit seeking to force the DMV and state officials to recognize their marriage. 
Earlier this year, both Daniel and Scott Wall-DeSousa used their Social Security cards and New York marriage certificate to obtain driver's licenses listing their hyphenated, married names. 
However, after the Wall-DeSousas went on TV news to inform other same-sex couples they could do the same, the DMV sent a letter threatening to revoke their licenses if they didn't reapply in their former names. Florida law prohibits recognition of same-sex marriages from any jurisdiction and for any purpose.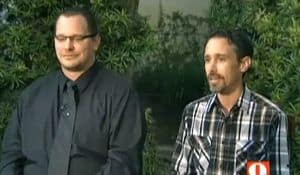 Scott Wall-Desousa, a real-estate agent, reapplied and obtained a license in his former name, but Daniel Wall-DeSousa, a schoolteacher, refused. 
The Wall-DeSousas' lawsuit filed last week alleges that the policy violates their rights to due process, equal protection and free speech, the Associated Press reports. 
Several state and federal judges in Florida have struck down the state's marriage ban as unconsitutinal, but those decisions have been stayed pending appeals by Republican Attorney General Pam Bondi.  
The Wall-DeSousas' lawsuit states that when Scott Wall-DeSousa initially tried to obtain a driver's license in his married name, a DMV employee in Brevard County "tossed" his marriage certificate back at him and indicated it wasn't a legal document. The employee also threatened to call another DMV office, where Daniel Wall-DeSousa had already obtained a license in his married name, and have them cancel it.
A Brevard County official later instructed Scott Wall-DeSousa to go to another county to obtain his license, since employees there wouldn't be aware it was a same-sex marriage. When Scott Wall-DeSousa applied for a license in his married name in Orange County, a DMV employee told him she was authorized to issue it because the marriage license said only "spouse" and not "same-sex" — suggesting the equivalent of a "don't ask, don't tell" policy. 
After receiving the letter threatening to revoke their licenses, Scott Wall-DeSousa called the DMV's headquarters, where an official told him the department was "following the letter of the law but not the spirit of the law," according to the lawsuit. 
Read the couple's full complaint, AFTER THE JUMP…