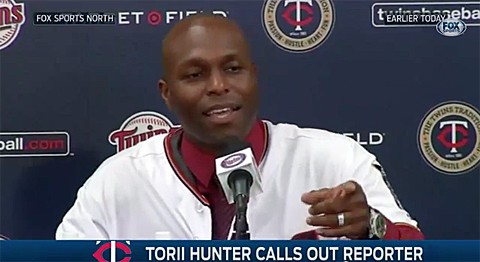 The Minnesota Twins held a press conference on Wednesday to officially announce that they had signed MLB veteran Torii Hunter.
Earlier this year, Hunter recorded a radio ad for Arkansas governor-elect Asa Hutchinson in which he trumpeted Hutchinson's bigotry as a selling points to voters.
Said Hunter in the ad: "Asa is committed to the principles we hold dear, like a strong faith in God, equal justice for all, and keeping marriage between one man and one woman."
A Pioneer Press reporter at the Twins press conference on Wednesday decided to bring it up, asking Hunter if he felt that the controversy over his views had impacted his free agent process as his contract with the Twins was a 19-percent decrease over his last contract.
Hunter said "no" but the reporter, Mike Berardino, brought it up again.
"The marriage question, is that the kind of thing that going forward that you're not going to mess with, or are you just such an open honest guy that if we asked you a question, you're going to answer it."
Hunter responded, "Nah, there's nothing to talk about. You already know. There's nothing to talk about. You already know, so why keep talking about it? I said it. It is what it is."
Hunter then called out the reporter, saying, "Hey, Mike is kind of a prick man. No, seriously. You're a prick, man. I don't even know you. You're a prick. Seriously. Ain't nothing wrong with that, man, that's your job. He's definitely a prick, though."
Watch, AFTER THE JUMP…
Hunter has said in the past that the idea of playing with an openly gay athlete made him "uncomfortable", "as a Christian."