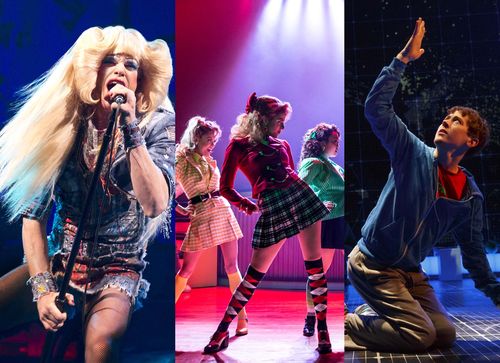 BY NAVEEN KUMAR
Theatre is risky business. Trusted safety precautions include movie adaptations (What's your damage, Heather?), stars above the title (NPH, lick my glasses!) and proven classics with stars above the title (Swooning for Denzel? Get in line). Though some hedged their bets, the year's best plays and musicals took big risks that paid off. Whether breathing new life into beloved stories or creating new ways of telling (with puppets!), the top of the crop never failed to thrill, entertain and enlighten. From highbrow to lowbrow and, well, Hedwig—read on for a list of my top 10 favorites.
10. Heathers: The Musical: Transforming the treasured and twisted 1988 teen flick into a stage musical was no easy feat, but writers Laurence O'Keefe and Kevin Murphy pulled it off with an intoxicating mix of verve and camp. Profane, over-the-top and, yes, ballsy—Heathers wins the award for this season's guilty pleasure most likely to get stuck between your teeth. But the musical also toed a fine line with its carefully crafted tone, balancing its bubblegum cynicism with genuine sympathy for every social strata of high school hell.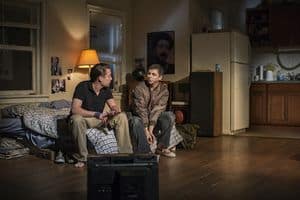 9. This Is Our Youth: Director Anna Shapiro's fine-tuned production of Kenneth Lonergan's seminal Gen-X comedy about twenty-somethings stalling to come of age in NYC marks the play's Broadway debut, and a high point in both its nearly 20-year history and the fall season. With dynamite performances from Michael Cera, Kieran Culkin and Tavi Gevinson, Lonergan's trio of hyper-articulate, aimless thrill-seekers buzzes with the hallmark frenetic energy of youth in any age.
8. The Bridges of Madison County: With a soaring, resonant score by Jason Robert Brown (sung to perfection by Kelli O'Hara and Stephen Pasquale) and book by Marsha Norman, Bartlett Sher's Broadway production elevated its Harlequin romance-inspired material into a vividly intimate and deeply felt love story. Also based on James Waller's best-selling novel, Sher's production was as nuanced and graceful as Clint Eastwood's 1995 film is sappy and melodramatic.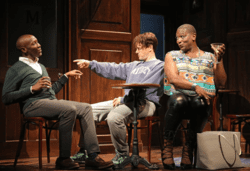 7. Bootycandy: Writer-director Robert O'Hara's semi-autobiographical and provocative coming-of-age tale about growing up black and gay defied generic formula for a more daring, fractious kind of storytelling. From outrageously funny to touchingly intimate, O'Hara's collage of colorful snap-shot scenes assembled into a refreshingly inventive and wholly effective big picture of life outside the margins.
Countdown continues AFTER THE JUMP…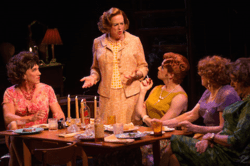 6. Casa Valentina: Provocateur Harvey Feirstein's fascinating new play based on a Catskills retreat for heterosexual (and variously homophobic) transvestites in the early '60s threw open the door on a little-known slice of history and grappled with its most troubling implications. Led by Patrick Page and Reed Birney (Tony nominated for his performance), the stellar cast of Joe Mantello's Broadway production for Manhattan Theatre Club delivered a dynamic and captivating look at the slippery nature of gender and sexual identity.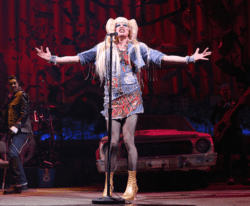 5. Hedwig and the Angry Inch: Cult fanatics and green inductees alike feel their hearts thump and jaws hit the floor in Michael Mayer's high-octane Broadway production of John Cameron Mitchell and Stephen Trask's 1998 downtown classic, which brought home this year's Tony for Best Musical Revival. The production's original stars Lena Hall and Neil Patrick Harris also nabbed their own Tonys, while Michael C. Hall (starring as Hedwig through Jan. 18)  is considered a must-see, and anticipation is running high for Mitchell to join the show for an eight-week run beginning Jan. 21.
4. A Raisin in the Sun: Denzel Washington was the big-name draw of this exquisitely acted production of Lorraine Hansberry's 1959 drama (this year's Tony winner for Best Revival), but the supporting cast of women walked away with the show—led by Sophie Okonedo (who won a Tony for her performance), a tremendous LaTanya Richardson Jackson and Anika Noni Rose. Director Kenny Leon's uncluttered storytelling and attention to the Younger family dynamic brought this tale of black struggle in mid-century Chicago pulsing to new life.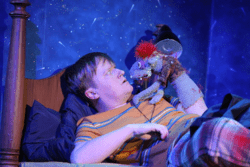 3. Hand to God: Playwright Robert Askin's searing, incisive and wildly entertaining dark comedy about an awkward boy and his possessed sock puppet hacks away at the bedrock of western religion with shocking humor and stark insight. MCC's riotous and bracing Off-Broadway production, directed by Moritz von Stuelpnagel, transfers to Broadway's Booth Theatre this March, featuring a must-see, virtuoso performance by Stephen Boyer as both the boy and his puppet.
2. Disgraced: Smart, sleek and tightly woven, director Kimberly Senior's Broadway production of Ayad Aktar's Pulitzer Prize-winning drama unfolds slowly and carefully before reaching its explosive, starling climax. The story of a second-generation Pakistani man, his artist wife and their two friends raises challenging and provocative questions about identity, race, sex, art, faith and more—all in 90 enthralling minutes of grounded, scintillating human drama.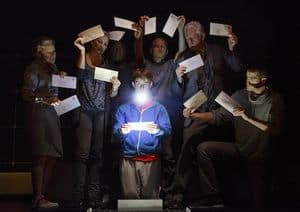 1. The Curious Incident of the Dog in the Night-Time: Director Marianne Elliot's production of Simon Stephen's propulsive play is imaginative and transporting and in a way rarely ever achieved onstage. Based on Mark Haddon's best-selling 2003 novel of the same name, this story about a boy investigating the murder of his neighbor's dog and unraveling the secrets of his own past burrows into the mind and sticks hard and fast—with minimal sets, nimble actors and a breakout performance by Alex Sharp.
Follow Naveen Kumar on Twitter: @Mr_NaveenKumar (photos: joan marcus, chad batka, brigitte lancombe, matthew murphy)