Queer as Folk creator Russell T. Davies has a new gay drama set to air on Channel 4 next year that is reportedly so risqué it "wouldn't get past an American network." And now a teaser for the show has been released online that is sure to get all the stateside prudes sweating.
Towleroad's Jim Redmond wrote back in August about Cucumber and its tie-in shows: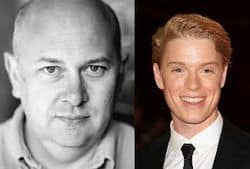 Set to be aired next year, Cucumber looks at gay life across different generations and stars Vincent Franklin as a 46-year old man going through a relationship break-up, and Freddie Fox as a young object of his desires.
Cucumber will be broadcast alongside a sister show, Banana and a related web series called Tofu. According to Davies, the titles for the three shows came from a scientific study on the erection:
"It divided the hard-on into four categories, from soft to hard. One, tofu. Two, peeled banana. Three, banana. And four, cucumber. Right there and then, I knew I had my drama," said Davies.
Watch the phallic-filled teaser, AFTER THE JUMP…