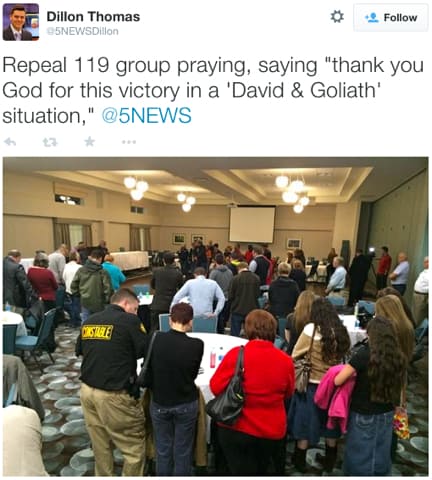 Voters in Fayetteville, Arkansas, narrowly repealed an ordinance banning anti-LGBT discrimination on Tuesday.
The final tally was 7,523 votes in favor of repealing the ordinance, or 52 percent, to 7,040 votes against repeal, or 48 percent.
Turnout was high for a special election, at 29 percent or 14,600 votes. That's compared to 21,457 Fayetteville residents who cast ballots in the Nov. 4 general election.
The City Council approved the ordinance in August after 10 hours of debate, but opponents gathered enough signatures to place it on the ballot. Fayetteville would have been the first city in Arkansas to ban anti-LGBT discrimination.
NWA Online reports:
Alderman Matthew Petty, the ordinance's sponsor, said he was disappointed but not discouraged after results were announced at Fresco Cafe & Pub, where supporters of the group Keep Fayetteville Fair gathered.

"We believe that we were on the right side of history," Petty said. "And if we're going to win the hearts and minds of people on the other side of this issue, we need to remember that and remember that they're brothers and sisters of Fayetteville, too." …

Petty said Tuesday night it's too soon to tell if the City Council will consider a revised version of a similar ordinance.

"We're going to consider all options," he said.

"This is the first round, but it won't be the last round," said Mayor Lioneld Jordan, who has publicly endorsed the ordinance. "I would have liked to have seen it go differently, but that doesn't mean we can't go back and try something again eventually."
Despite the setback, there were signs of progress in the results. Sixteen years ago, when Fayetteville voters repealed an ordinance protecting only gay city employees — the margin was 58 percent to 42 percent. The ordinance voted on Tuesday was much broader in its scope, applying citywide and including transgender protections.
Kendra Johnson, a representative from the Human Rights Campaign in Arkansas, issued the following statement:
"Tonight's vote is a deeply disappointing reminder that equality doesn't always move forward in a straight line. Make no mistake about it, tonight's election results—and the repeal of this ordinance — will inflict direct harm on LGBT Arkansans, their families and their friends. But we remain convinced that the progress of fairness will continue despite this result. All Arkansans should have the legal right to live safely within their communities, homes and workplaces, and the day will come soon when LGBT young people will wake up in this state and enjoy true equality under the law. We'll keep up the fight until that dream is achieved."
Opposition to the ordinance was led by the likes of reality TV star Josh Duggar, as well as several Republican members of the Arkansas Legislature, who threatened to overturn the measure anyway if it was upheld by voters.
Here's how they reacted on Twitter:
Glory to God! "@5NEWSLarry: "For Repeal" wins on Fayetteville's Ordinance 119 with 52% of the vote."

— Bob Ballinger (@Bob_Ballinger) December 10, 2014
A great victory for religious liberty & freedom. A great win for small businesses and churches in Fayetteville and Arkansas!

— Justin Harris (@harris4arkansas) December 10, 2014
Thanks to all who helped w/ the #Repeal119 campaign in Fayetteville, AR – supporting equality for ALL Fayetteville citizens!

— Josh Duggar (@joshduggar) December 10, 2014
Watch KFSM-TV's report on the results, AFTER THE JUMP…