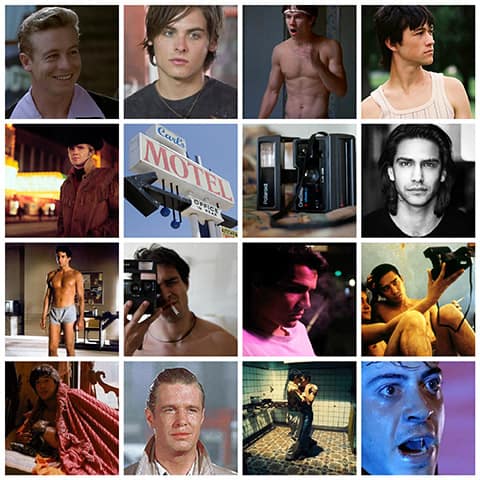 Exterior. Road-side. Magic hour. A young male prostitute is hired by an older man to accompany him on a trip to the Grand Canyon, the same trip the John took with the love of his life 10 years ago. This is the catalyst that sets Retake, a new gay indie drama with Luke Pasqualino, Derek Phillips, and Kit Williamson, off to the races.  
As I've gone on my journey producing and crowdfunding Retake, which we've mentioned on Towleroad once before, the process spurred some thinking about various films in the "hustler" genre. I quickly realized how many films are rooted in the world of gay hooking and hustling, so it seemed natural to share the results of my discussions with director Nick Corporon and cinematographer Collin Brazie here. After some lively debate we settled on our top 10 depictions of male hustlers in movies.
10. George Peppard in Breakfast at Tiffany's
Playing a kept man, Peppard encounters Truman Capote's frothy creation, Holly Golightly, whom he once described as part of a "whole breed of girls who live off men but are not prostitutes. They're our version of the geisha girl." With his steely grey eyes, Peppard waltzed into our hearts and cinema history.
9. Richard Gere in American Gigolo
Before he played the customer in Pretty Woman, Richard Gere turned tricks as Julian in Paul Schrader's amazing take on hooking. Gere said he was interested in the role because of the gay subtext. "There's kind of a gay thing that's flirting through it and I don't know the gay community at all," he told The Advocate in 2012.  "I wanted to immerse myself in all of that, so I dove in," Gere said.
8. Robert Downey Jr. in Less than Zero
Playing the 80s-tastic drug addicted yuppy whose record startup fails, Downey Jr. turns to hustling when his habit gets out of hand and he's cut off by his family. The movie is classic LA neo-noir adapted from a novel by (who else?) Bret Easton Ellis.
7. Jon Voight in Midnight Cowboy
Academy Award winner for Best Picture, Best Director, and Best Screenplay, Jon Voight won over audiences in 1969 as Joe Buck, a young Texan dishwasher who packs up and moves to New York City to please women. It's the only X-rated film to win Best Picture and launched a long career for Voight and gave us the iconic phrase from co-star Dustin Hoffman, "I'm walkin here!"
6. Mark Wahlberg in Boogie Nights
His member may have been prosthetic, but Wahlberg's performance as the uber adult film star Dirk Diggler who turns to hooking when down on his luck is jam-packed with bravado, sex appeal and tenderness. Director Paul Thomas Anderson shows an eagerness in Boogie Nights to turn the objectifying gaze of the camera, a gaze that in heterosexual adult film is cast almost exclusively on women, onto the male characters that inhabit its world. Boogie Nights also features Phillip Seymour Hoffman as a closeted boom operator who struggles to come to terms with his sexual identity. Said Hoffman of his character, "He was so completely stunted I don't even think he knew his attractions were of a gay nature." 
5. Kevin Zegers in Transamerica
Delivering a performance that is simultaneously sexy and heart-wrenching, Kevin Zegers turned many heads as Toby, an emotionally wrought teenager who has been hustling to make ends meet. He ends up on a cross country journey after being picked up from jail by a "social worker" who may or may not be his father, played by Felicity Huffman in a performance that earned her an Academy Award nod.
4. Joseph Gordon-Levitt in Mysterious Skin
Playing the carefree young boy who's willing to do whatever it takes to break free from his small town, Joseph Gordon-Levitt embodies the archetype of the sexy twinky gay hustler in a performance that cast him in a light we'd never seen him before. Gordon-Levitt said of his part in Mysterious Skin, "It is a really different role for me, and I'll always be really grateful to [director Gregg Araki] for believing that I could do a role like this. I've played the nice kid, and the smart one or funny one and even the angry one, but Gregg was the first one to call me sexy, and I'll always be really grateful for that."
3. Simon Baker in LA Confidential 
Today he might be known as The Mentalist but hot Aussie Simon Baker made a memorable turn as a male prostitute in the 1997 adaptation of James Ellroy's noir thriller LA Confidential. Playing a hooker 'cut' to look like James Dean, Baker is used by Kevin Spacey and Danny DeVito in an attempt to lure a district attorney into a homosexual tryst. Naive never looked so good.  
2. Leslie Cheung in Happy Together
Playing an on-again off-again lover to Tony Leung, Leslie Cheung is the emotionally absent half of a couple that is doomed from the start in Wong Kar Wai's Happy Together. As sexy as he is brutal, Cheung never lets his counterparts forget what they came to him for. Cheung creates a vivid portrayal of the vicious tango of on-again-off-again romance and the perils of toxic relationships, the kind that keep you coming back for more, and wondering why every time.
1. River Phoenix and Keanu Reeves in My Own Private Idaho
River Phoenix's portrayal of a narcoleptic street hustler who is falling for his (possibly) straight counterpart played by Keanu Reeves in Gus van Sant's now iconic My Own Private Idaho was not only at the top of our list it was also a huge source of inspiration for Retake. A sexy emotionally charged journey that takes us all over the world as Phoenix and Reeves figure out who they are and who they'll become, My Own Private Idaho is just about as good as it gets.
BONUS: Luke Pasqualino in Retake
Color us biased, but we can't wait to see Luke Pasqualino (Skins, Snowpiercer) playing a street hustler who gets hired to go on a role-playing road trip that gets darker and more twisted as it progresses.
Retake is now in the final week of its Kickstarter campaign. You can support the project HERE! 
What do you think of our list? Share your thoughts in the comments!
And AFTER THE JUMP…check out a full sizzle reel with concept footage giving you a taste of what a feature length Retake aims to be.