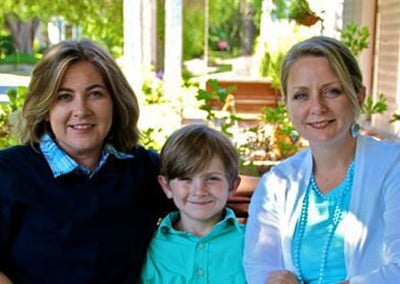 With Alabama poised to become the 37th state with marriage equality on Feb. 9, an association of probate judges announced Wednesday it will no longer stand in the way. 
The Alabama Probate Judges Association — whose 67 members issue marriage licenses — previously took the position that last week's federal court decision striking down the state's marriage ban applied only to plaintiffs Cari Searcy and Kimberly McKeand (above). However, after U.S. District Judge Callie V. S. Granade issued an order Wednesday clarifying that her ruling applies statewide, the association backed down. 
From AL.com: 
That means the final hope for opponents of same-sex marriage is that the Atlanta-based 11th U.S. Circuit Court of Appeals will agree to a request by the state to extend a "stay" Granade ordered delaying the ruling from taking effect until Feb. 9.

"It is the opinion of the Association, on the advice of legal counsel, that until the stay is lifted, probate judges cannot issue marriage licenses to same sex couples," Monroe County Probate Judge Greg Norris, the group's president, said in a prepared statement. "However, on the occasion that the stay is lifted, same sex couples may apply for marriage licenses."
The Washington Blade sheds light on the likely reasoning behind the group's decision to reverse course:  
Adam Romero, senior counsel and Arnold D. Kassoy scholar of law at the Williams Institute, University of California, Los Angeles, said the clarification makes clear the decision wasn't specific to plaintiffs in the case.

"If and when that decision goes into effect, any Alabama official that enforces the state's bans on same-sex marriage are in danger of not only being hauled into Judge Grande's court and added to the pending lawsuit, but also getting hit with the costs of doing so," Romero said.
Of course, it's still possible some probate judges will put their religious beliefs above the law or bow to pressure from Alabama Chief Justice Roy Moore, who plans to send a letter advising them not to issue licenses. But depending on the outcome of Attorney General Luther Strange's appeal to the 11th Circuit, same-sex couples in Alabama could be in store for a very special Valentine's Day.