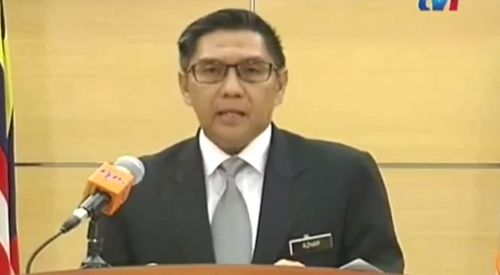 After nearly 11 months of searching, the Malaysian government has officially declared the disappearance of Malaysian Airlines flight MH370 an accident and has said that there were no survivors, CNN reports:
The formal declaration, read Thursday by civil aviation director Azharuddin Abdul Rahman, will allow the families of those presumed dead to continue the compensation process with the airline or with insurers.
"It is therefore, with the heaviest heart and deepest sorrow that, on behalf of the Government of Malaysia, we officially declare Malaysia Airlines flight MH370 an accident in accordance with the Standards of Annexes 12 and 13 to the Chicago Convention and that all 239 of the passengers and crew on board MH370 are presumed to have lost their lives," Azharuddin said.
MH370 disappeared on March 8, 2014 – triggering international search efforts and wall-to-wall coverage and speculation from cable news outlets (Don Lemon's "black hole" theory anyone?).
BBC News adds that officials have said the recovery operation for the wreckage will continue. Watch a portion of yesterday's announcement, AFTER THE JUMP…