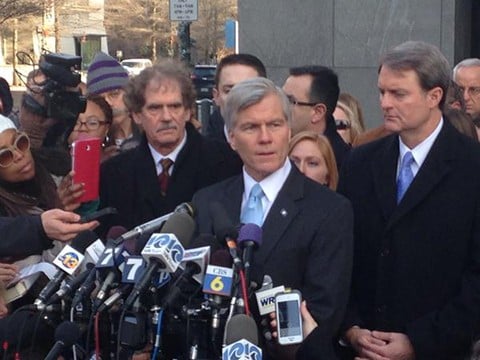 Anti-gay former Virginia Governor Bob McDonnell was sentenced Tuesday to two years in prison after being convicted in September on charges of corruption. While McDonnell had originally faced up to two decades in prison, the maximum possible sentence was reduced by Judge R. Spencer to between six-and-a-half and eight years. The New York Times reports:
For hour upon hour before sentence was passed, the court heard accounts of Mr. McDonnell's good deeds, and the judge said they were a mitigating factor. But, he said: "A price must be paid. It breaks my heart." 
Mr. McDonnell, who arrived in court with two of his daughters, looked on silently through the hours of testimony from friends and former associates. He was the last to address the court.
"I stand before you as a heartbroken and humbled man," he said, as many supporters in the packed courtroom dabbed at their eyes with tissues.
Mr. McDonnell said his life in the governor's mansion had become unbalanced. Now, he said, he will dedicate the rest of his life "newly to service."
McDonnell's wife was also convicted on corruption charges and still awaits sentencing. Mr. McDonnell, along with other members of the family, alleged it was Lady Macbeth who was to blame, having introduced Mr. McDonnell to Virginia businessman Jonnie R. Williams Sr. who eventually gave the couple "$120,000 in low-interest loans, paid for much of the wedding of their daughter Cailin McDonnell Young, bought a Rolex for the governor, picked up bills for golf outings and lent them his Ferrari." However, Judge Spencer, perhaps making a biblical allusion, insisted that Mr. McDonnell still bore the blame for his crime:
Judge Spencer, referring to Mr. Williams, said Ms. McDonnell "may have let the serpent into the mansion." But the governor, he said, let Mr. Williams into his financial affairs
Upon release, Mr. McDonnell will face two years of supervision. The prison term and the supervision are all well below the recommended sentencing guidelines, which could have put the former governor behind bars for up to 20 years, and less than the 78 months sought by the government.
"The Jonnie Williams of the world are a dime a dozen," Michael Dry, a lead prosecutor in the case, told the court. "Corrupt governors are not. But when we find one," he said, the official must be brought to justice. When Mr. Dry left the courtroom, his face was twisted in anger. He declined to comment.
During his tenure as Governor McDonnell had been a vocal opponent of both gay adoption and providing protections for LGBT individuals based on their sexual orientation or gender identity.