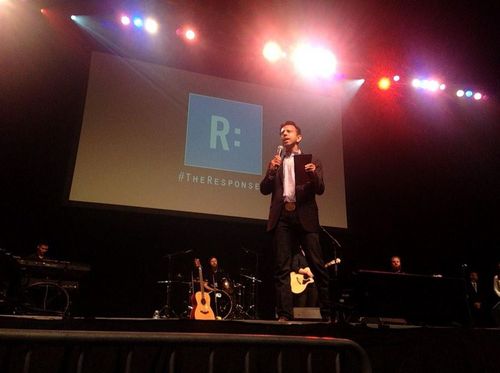 (twitter)
On Saturday, Louisiana Governor Bobby Jindal headlined an all-day prayer rally at Louisiana State University in an effort to drum up evangelical support for a potential 2016 bid for the White House. 
The Response, as the prayer rally was called, was hosted by the rabidly anti-gay American Family Association and featured various self-proclaimed prophets, doomsday sayers, and other assorted religious nuts as Right Wing Watch points out. 
The LSU community, which had repeatedly denounced the event in the lead up to this Saturday, showed up to protest the event, the AP reports:
"You've heard today is not about political speeches. Today is about humbling ourselves before the Lord. Today we repent for our sins," he said. […]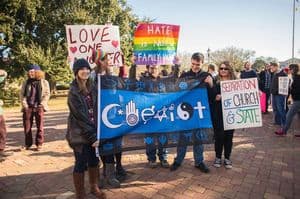 Outside the prayer event, critics held a protest, saying the American Family Association, which the Southern Poverty Law Center has classified as a hate group, promotes discrimination against people who are gay or of non-Christian faiths.
Protesters accused Jindal of using the rally for political gain.
"I just knew this wasn't what LSU stands for. These aren't LSU values, Louisiana values or American values," said Peter Jenkins, a 26-year-old graduate student and protest organizer.
Jindal hasn't commented directly on the views of the American Family Association, which has linked same-sex marriage and abortion to disasters such as tornadoes and Hurricane Katrina.
On Friday, Rachel Maddow devoted a segment of her show to highlighting one of the crazier backers of The Response – Cindy Jacobs. You'll recall Jacobs as the woman who claims to have a direct line to God and that God has given her special powers – such as the ability to predict natural disasters and raise people from the dead. 
Watch Rachel's killer segment, AFTER THE JUMP…
[photo via Flickr]