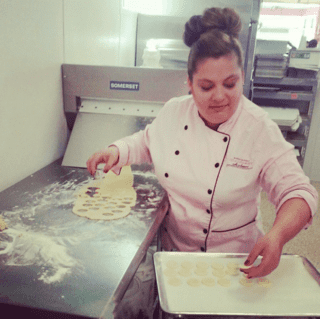 Marjorie Silva owns and operates the Azucar Bakery in Denver, Colorado where she specializes in creating custom-made, imaginative wedding cakes. For that reason, she wasn't surprised when a potential customer came into the shop inquiring about whether she could bake a cake shaped like a bible for a special occasion.
She assured the man that that wouldn't be a problem, and asked a bit more about what kind of design he had in mind. The man proceeded to pull out a piece of paper describing the cake, but he refused to show it to the Azucar employees.
"He wouldn't allow me to make a copy of the message, but it was really hateful," Silva told OutFront. "I remember the words detestable, disgrace, homosexuality, and sinners."
According to another employee, the man was asking for a cake covered in anti-gay, religious condemnation, something that Silva flatly refused.
"I told him that I would bake the cake in the shape of a Bible," said Silva. "Then I told him I'd sell him a [decorating] bag with the right tip and the right icing so he could write those things himself."
Upset, the man left the bakery and warned Silva that she and her employees would do well to get in contact with their attorneys; he planned on returning later that day. True to his word, the man returned hours later asking whether Silva had lawyered up. She described the man as "being really pushy and disruptive," but thought nothing of his strange behavior and asked him to leave once again.
Soon after that first interaction, Silva received notice from the Department of Regulatory Agencies that a discrimination complaint had be filed against the bakery. Silva and her employees stood by the decision to turn away the man for his homophobic demands and further described his ludicrous inquiry:
"[He] wanted an open book with the words 'god hates homosexuality' and a 'no' sign over two men. He also wanted a scripture and the Ghostbusters logo.

The customer wanted us to draw two males holding hands … with a big 'X' on them. I told him that we do not like to discriminate in this bakery, we accept all humans and that the message and drawing is extremely rude."