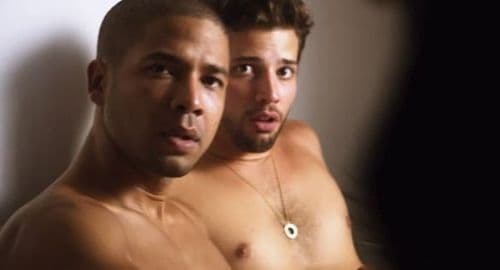 Lee Daniels' new Fox show Empire is already a critical and ratings success. In fact, the series has already been picked up for a second season – this after the airing of just the first two episodes. The show revolves around a music mogul (Terrence Howard) and his family, including a son (Jussie Smollett) whom he does not support because he is gay.
While promoting Empire at the Television Critics Association press tour over the weekend, the openly gay Daniels said that the nightime soap will "blow the lid off more on homophobia" in the African American community.

The Wrap reports on what Daniels had to say and his thoughts about men on the "Down Low":
"Homophobia is rampant in the African American community, and men are on the DL. They don't come out, because your priest says, your pastor says, mama says, your next-door neighbor says, your homie says, your brother says, your boss says [that homosexuality is wrong]," Daniels said. "And they are killing African American women. They are killing our women. So I wanted to blow the lid off more on homophobia in my community."
He continued:
"When I did 'Precious' I had to do research on AIDS in the '80s so I went to the Gay Men's Health Crisis Center in New York City, and I expected to see gay men, and there were nothing but African American women and babies with HIV. And that blew me away," Daniels recalled. 

Daniels laid the blame squarely on what he referred to as the "rampant" homophobia in the black community — specifically, the phenomenon of men secretly engaging in gay sex because of the stigma.
This isn't the first time Daniels has been vocal about wanting to bring this issue to light through the series. Earlier this month he told Time magazine that one of his objectives for Empire was "to address homophobia in the African-American community and in the impoverished community. To educate people."
Watch a clip about about the show in which Smollett talks about portraying Jamal Lyon, his gay character on the show, AFTER THE JUMP…