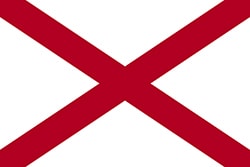 After the Alabama Probate Judges Association argued that Judge Callie V.S. Granade's ruling against Alabama's same-sex marriage ban applied only to the plaintiffs in the case not the entire state, Judge Granade, a George W. Bush appointee, today issued a clarification of her ruling against the marriage ban.
As previously reported, Judge Granade imposed a 14 day stay of her ruling allowing the state to appeal the case to the 11th Circuit Court of Appeals. However, should the stay expire, Judge Granade made her position unequivocally clear: Alabama's ban is "unconstitutional because [it] violate[s] the Due Process Clause and the Equal Protection Clause of the Fourteenth Amendment." As a result, all counties in Alabama will be required to issue marriage licenses to same-sex couples. No doubt referencing attempts made by opponents of marriage equality in Florida to limit Judge John Hinkle's ruling overturning that state's marriage ban, Judge Granade invoked Hinkle's ruling to underscore her own as Alabama is faced with an "almost identical issue":
History records no shortage of instances when state officials defied federal court orders on issues of federal constitutional law. Happily, there are many more instances when responsible officials followed the law, like it or not. Reasonable people can debate whether the ruling in this case was correct and who it binds. here should be no debate, however, on the question whether a clerk of court may follow the ruling, even for marriage-license applicants who are not parties to this case. And a clerk who chooses not to follow the ruling should take note: the governing statutes and rules of procedure allow individuals to intervene as plaintiffs in pending actions, allow certification of plaintiff and defendant classes, allow issuance of successive preliminary injunctions, and allow successful plaintiffs to recover costs and attorney's fees.
* * * *
The preliminary injunction now in effect thus does not require the Clerk to issue licenses to other applicants. But as set out in the order that announced issuance of the preliminary injunction, the Constitution requires the Clerk to issue such licenses. As in any other instance involving parties not now before the court, the Clerk's obligation to follow the law arises from sources other than the preliminary injunction.
Read Judge Granade's clarification below:
1:14-cv-00208 #65 Order Clarifying Judgment by Equality Case Files