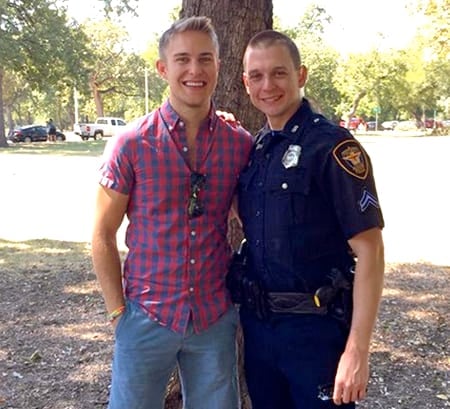 In a new TV ad from Freedom To Marry, Fort Worth Police Detective Chris Gorrie is flanked by three of his colleagues (below right) at a restaurant table.  
"Chris makes a sacrifice every day along with the rest of us," FWPD Detective Monica Jackson says. 
"He puts his life on the line just like I do," FWPD Officer Jay Doshi says. 
Gorrie explains that he and his partner, Justin (shown above), live together and would like to get married someday.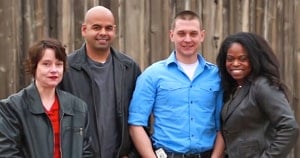 "Texans believe in freedom and liberty, and part of that is to be able to marry whoever you love, so Chris should be able to marry whoever he loves," Doshi says. 
The ad is airing across Texas this week in advance of a key federal appeals court hearing Friday, according to The Houston Chronicle: 
The $100,000 TV buy will air Sunday and Monday, just days before the 5th Circuit Court of Appeals in New Orleans is slated to hear arguments in a case challenging Texas' constitutional ban on gay marriage.

The ads, which feature gay and lesbian Texans talking about their desire to marry, will air in eight of Texas' 20 markets including Houston, San Antonio, Dallas, Austin, Beaumont, Corpus Christi, El Paso, Laredo, the Rio Grande Valley, Waco and Wichita Falls. … 

"The aim is to show gay Americans are really completely integrated into the fabric of our society," said Mark McKinnon, a former advisor to President George W. Bush and Texas chair of Southerners for the Freedom to Marry. He called the ads an "electronic blanket" to reinforce a recent wave court cases validating LGBT Americans right to marry in other states.
The ad is part of Freedom To Marry's newly launched Texas For Marriage campaign. The campaign included a town hall earlier this month in Austin where 16-year-old Mason Marriot-Voss, who has two moms, delivered a rousing speech in support of marriage equality
More on Texas For Marriage from Lone Star Q: 
The campaign will be led by Ward Curtin, three-time deputy campaign manager to Houston Mayor Annise Parker, and Mark McKinnon, a former advisor to President George W. Bush.

"Nearly every state and federal court from last year on, more than 50 – with judges appointed by Republican and Democratic presidents and governors – has ruled in favor of the freedom to marry and moving the country forward," Freedom to Marry President Evan Wolfson said. "Texas families should not be left behind. Government has no business interfering in important freedoms like who Texans marry, and no business putting obstacles in the path of families and employers trying to do the right thing. Our new campaign will show that Texans are ready for the freedom to marry, and so is America."

In addition to a website unveiled Tuesday, TxForMarriage.org, the campaign will feature statewide TV ads, townhall meetings and a Republican-led effort by young conservatives.

"Gay marriage was barely a blip on the radar this past election cycle in Texas, as it was in the rest of the country," McKinnon said. "That's because discrimination doesn't sell like it used to — and because Texans from all walks of life, from big cities to small towns, believe strongly in freedom and family. Supporting gay couples marrying is squarely in line with these Texas values."
As we reported last week, even though the 5th Circuit Court is among the most conservative in the nation, there is hope for a favorable ruling. In addition to the Texas case, the 5th Circuit will hear oral arguments Friday in marriage cases from Louisiana and Mississippi. 
Watch Freedom To Marry's Texas ad, AFTER THE JUMP …