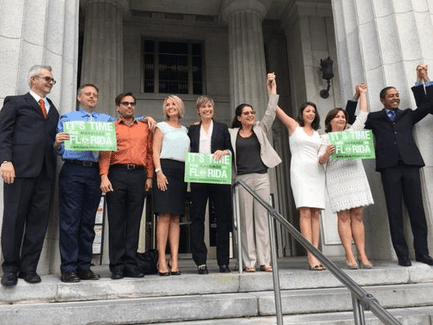 (twitter)
A state judge in Miami-Dade County, Florida has lifted the stay on her July ruling striking down the state's ban on same-sex marriage. Gay couples will be able to receive marriage licenses in any Miami area clerk's office starting 2 pm today – 10 hours before marriage equality opens up to the rest of Florida with the end-of-day expiration of a similar ruling from Judge Robert Hinkle.
Miami's Local 10 reports: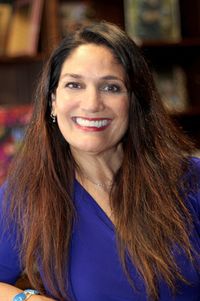 Judge Sarah Zabel's words — "I'm lifting the stay" — brought immediate cheer in the courtroom Monday morning.
With those words, marriage licenses can be issued to same-sex couples in Miami-Dade County right away.
The Miami Herald has the backstory:
In July, a state judge in Miami-Dade, Sarah Zabel, ruled Florida's marriage amendment violated constitutional rights and ordered Miami-Dade to issue marriage licenses to six same-sex couples who had sued to marry. Like Hinkle, she stayed her own ruling to allow for appeals. Florida Attorney General Pam Bondi has vigorously defended Florida's gay-marriage ban, appealing Zabel's ruling, a similar one in Monroe County and others.
NCLR Legal Director Shannon Minter reacts:
"This is a pivotal moment not just for Miami but for the entire country. Florida is a bellwether state, and I can think of no more encouraging sign as the US Supreme Court prepares to decide whether to resolve this issue for the entire country at its next conference on January 9, and as the Fifth Circuit Court of Appeals hears oral arguments in the Texas, Mississippi, and Louisiana marriage cases the same day. This is an incredibly important week for marriage equality, and we are so thrilled that Miami couples are leading the charge."
Todd, Jeff, Karla. And Cathy getting their licenses NOW! Next they marry. #Flmarriage pic.twitter.com/TrmTQv1PAR

— Stratton Pollitzer (@Stratton100) January 5, 2015
Another beautiful couple receiving their marriage license. It is really happening! #Flmarriage pic.twitter.com/1G1TMApWJM

— Stratton Pollitzer (@Stratton100) January 5, 2015
Miami-Dade plaintiff couple Melanie & Vanessa Alenier are holding their marriage license!! #FLmarriage pic.twitter.com/sc7PqGHPM8

— Equality Florida (@equalityfl) January 5, 2015