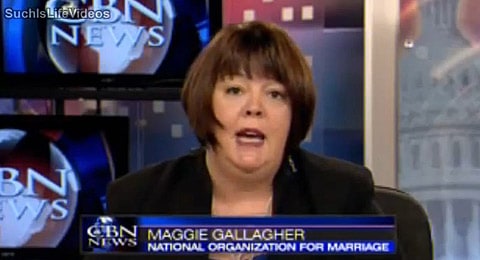 According to the Daily Beast, 2015 is shaping up to be an interesting year for the conservative opponents of LGBT rights. Though public support for gay marriage is at an all-time high, writes Tim Mak, organizations like the National Organization for Marriage see their recent spate of defeats as an opportunity to turn their focus and faith heavenward and beyond.
"Nothing is inevitable. 'Inevitability' is the progressive substitute for the idea of Divine Providence," former NOM president Maggie Gallagher insisted to the blog. "Either God is in charge, or the future hasn't yet happened and is freely determined. Or God leaves us free."
Mak points out, however, that after months of hardcore election campaigning here in the U.S., NOM finds itself woefully underfunded and in search of new social battlegrounds overseas more receptive to their ideology:
But it's worse than "nearly exhausted": NOM's 2013 tax filings showed the group with more than $2.5 million in debt. And their fundraising collapsed by 50 percent from the previous year.

"They have a tough road ahead, and more and more they're being honest about that. That's becoming their new cry, now they're the David against Goliath," said Jeremy Hooper, a political consultant who has monitored the activities of anti-LGBT groups for a decade. "They're owning the fact that they're at a loss now."
In addition to refocusing on the idea of American progressives slowly eroding the Right's supposed rights to religious liberty, political battles abroad centered around gay rights offer conservatives the chance to contemplate just how to craft a strategy for the 2016 U.S. presidential election.
"I suspect the focus is going to be on 2016 and that social conservatives are going to struggle between choosing a champion and choosing a conventional 'winner,'" said senior Brookings fellow Jonathan Rauch.
Check out the full article here.