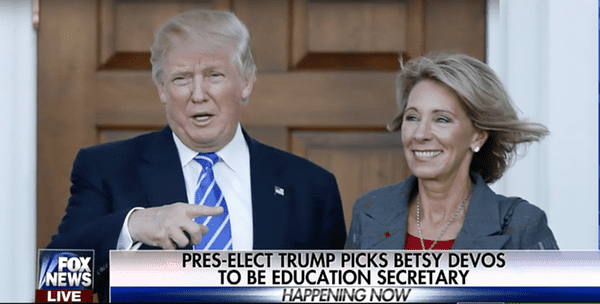 Donald Trump has named National Organization for Marriage (NOM) donor and anti-gay marriage activist Betsy DeVos as his pick for Secretary of Education.
In case that weren't troubling enough, DeVos is also an advocate for charter schools and school vouchers…and she's about to be given the reigns of the DOE.
"Betsy DeVos is a brilliant and passionate education advocate," Trump said in a statement confirming her selection. "Under her leadership we will reform the U.S. education system and break the bureaucracy that is holding our children back so that we can deliver world-class education and school choice to all families."
DeVos is the second woman Trump has chosen for his administration. On Wednesday morning, South Carolina Gov. Nikki Haley accepted Trump's offerto be ambassador to the United Nations, a Cabinet-level position.
DeVos, a 58-year-old billionaire philanthropist from Michigan, leads the American Federation for Children, which promotes charter school education. She's married to Dick DeVos, an heir to the Amway fortune.
A major GOP donor who gave money to Carly Fiorina and Jeb Bush during the primaries, DeVos ultimately supported Florida Sen. Marco Rubio as the Republican candidate for president — not Trump.
ABC reports on the DeVos family's donation to NOM in 2012:
The Douglas and Maria DeVos Foundation, financially supported by Amway president Doug DeVos, donated $500,000 to the National Organization for Marriage (NOM), an anti-gay marriage group that was one of the leading advocates against same-sex marriage initiatives in eight states.
More on the DeVos family via Mother Jones:
They have helped fund nearly every prominent Republican running for national office and underwritten a laundry list of conservative campaigns on issues ranging from charter schools and vouchers to anti-gay-marriage and anti-tax ballot measures. "There's not a Republican president or presidential candidate in the last 50 years who hasn't known the DeVoses," says Saul Anuzis, a former chairman of the Michigan Republican Party.
DeVos also personally contributed to a Michigan proposition that banned same-sex marriage in the Great Lakes state. More recently the family has donated to a fund for the victims of the Pulse massacre. RawStory reports: 
Betsy and Dick DeVos also led the effort to place an anti-marriage amendment on the Michigan ballot and gave more than $200,000 to the successful effort to change the state constitution.
Now the DeVos family is joining the Walt Disney Co. and other Orland-area institutions in offering support to victims of this week's deadly terrorist attack.
Disney pledged $1 million to the OneOrlando Fund and offered to match employee contributions dollar for dollar, and Darden Restaurants have promised to give $500,000.
The DeVos family also owns the Orlando Magic.