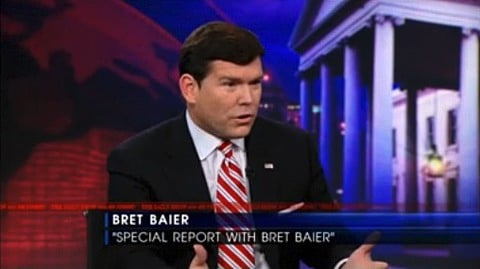 Hot on the heels of actor Gary Sinise's announcement that he would be pulling out from the annual conference of the anti-gay Catholic organization Legatus, comes word that FOX News anchor Bret Baier has also canceled his participation in the event, AdWeek reports:
"Bret Baier has withdrawn his participation as a speaker at the upcoming Legatus Summit due to the controversy surrounding some editorial stances in the organization's magazine," a Fox News spokesperson tells us. "Bret accepted the invitation to speak about his book, his faith, and his son's congenital heart disease. He was unaware of these articles or the controversy surrounding them."
Still slated to headline the event are Pete Coors, the Chairman of the Molson Coors Brewing Company and MillerCoors, along with Louisiana Governor Bobby Jindal and NYC Archbishop Timothy Dolan.
As Andy pointed out earlier, Legatus promotes the idea that homosexuality is a "disorder" that can and should be "cured". You can read more on Legatus HERE.