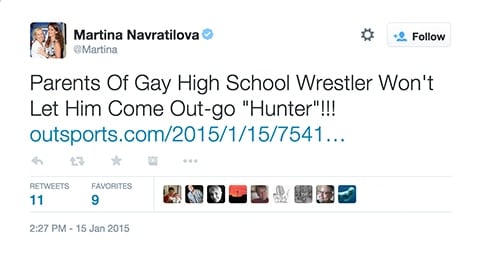 Last week Outsports carried a story about a high school wrestler who came out as gay to his parents and was subsequently forced into conversion therapy and forbidden from coming out to anyone else. Suffering under the yoke of his parents' oppressive reign but still yearning to live authentically, the young man, known only as "Hunter," decided to came out anonymously online in a post published on OutSports.
Reading about other young LGBT athletes who had come out and interacting with them over social media inspired Hunter to open up. However, after his story started to gain media traction, Hunter asked that his story be pulled for fear that his parents might discover it, figure out it was about him and make reprisals against him. OutSports' Cyd Zeigler has the story:
We're sorry to say that we've decided to remove this story from the site.
Hunter contacted us this morning with fear that his parents might see it. The story got shared and read far more widely – and with more mainstream media – than we had imagined it could be. When mainstream sites started picking it up, Hunter got concerned and this morning asked us to remove the full story, at least temporarily, from Outsports. Just as the publication of the story is something we don't usually do, its removal is the same […]
While there's so much more to his story that Hunter wants to share, that will have to wait […]
The message of the story is not lost: There are lots of LGBT teen athletes who very much need help and support.
Hunter has set up an anonymous email where other young LGBT athletes can connect with him.