Budi the baby orangutan arrives at Indonesian rescue center, is severely malnourished and screams in pain when moved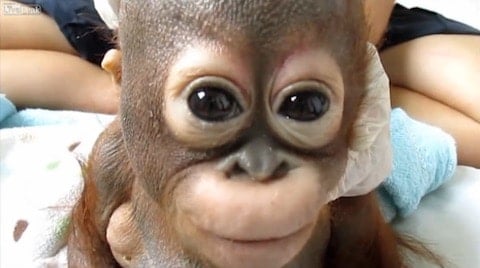 If there's anything that can bring a tear to the eye of cynical LiveLeak commenters, its the mere suggestion of animal abuse.
This video of baby orangutan Budi is particularly hard to watch.
Rescued by International Animal Rescue (IAR) in Indonesia, for the first year of his life Budi was kept in a chicken cage and fed on nothing but condensed milk which was slowly killing him.
On arrival at IAR, Budi was in a critical condition, showed signs of severe malnutrition and screamed in pain every time he was moved by vets.
Budi is on the long road to recovery but IAR needs your donations.
Watch Budi at IAR, AFTER THE JUMP…