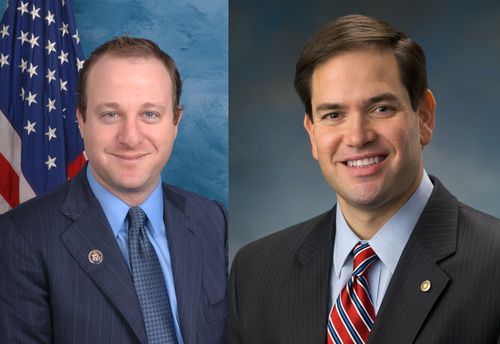 Anti-gay Senator Marco Rubio (R-FL) is a huge fan of the federal government's invasive monitoring of private citizens in the name of fighting ISIL, Al Qaeda, and preventing another 9/11. So much so that he wants an permanent extension of the Foreign Intelligence Surveillance Act, the 1978 act that was used to justify the Bush administration's warrantless wiretapping.
Wrote Rubio in an op-ed published on Foxnews.com:
This year, a new Republican majority in both houses of Congress will have to extend current authorities under the Foreign Intelligence Surveillance Act, and I urge my colleagues to consider a permanent extension of the counterterrorism tools our intelligence community relies on to keep the American people safe.
Its subsequent amendments – the USA PATRIOT Act of 2001, the Terrorist Surveillance Act of 2006, and Protect America Act of 2007 – greatly expanded the federal government's right to spy on its citizens through "electronic surveillance".
In a challenge of putting one's money where one's mouth is, Representative Jared Polis (D-CO) called on the United States Intelligence Community to begin twenty-four hour per day monitoring of Senator Rubio, saying:
If Senator Rubio believes that millions of innocent Americans should be subject to intrusive and unconstitutional government surveillance, surely he would have no objections to the government monitoring his own actions and conversations. Senator Rubio is asking for American technology companies to 'cooperate with authorities,' so I believe he will have no objection to authorities being given access to his electronic correspondence and metadata.  Maybe after his 2016 strategy documents are accidentally caught up in a government data grab, he'll rethink the use of mass surveillance.
Rubio's offices has not yet commented on Polis' proposal.