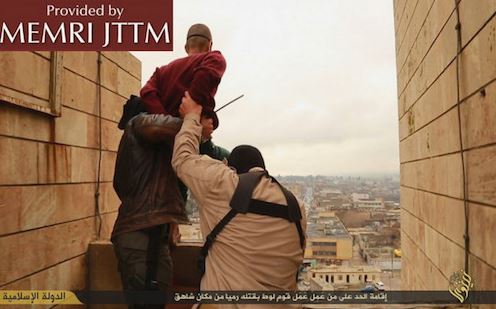 The International Gay and Lesbian Human Rights Commision and the global women's rights group MADRE have issued a statement on last week's photos showing two men allegedly being thrown to their deaths in Iraq for being gay – with both groups cautioning against jumping to any conclusions until further information is presented.
From the IGLHRC website: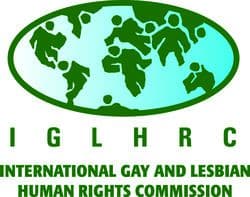 IGLHRC and MADRE caution concerned members of the media, representatives of foreign governments and people of conscience generally in the strongest possible terms against assuming that the men identified as 'gay' and against assuming the men engaged in homosexual acts. Other than the photos themselves, very little is known about these executions. IGLHRC has tried to independently verify the events that occurred with little success to date. Without credible evidence, it is crucial to exercise extreme caution in how the event is reported and how the men are described.
At this time, to publicly call Iraqi men "gay" can only do harm. If the men did not identify as gay, the allegation is inaccurate and obscures the Islamic State's motivation for publicly labeling them as such. If the men indeed identified as gay, extreme caution should be exercised and consultation held with those they loved as widespread publicity potentially exposes their families, loved ones and intimate partners to harm. Honor killings are pervasive in Iraq, so the safety of those most affected must be a paramount concern.
Furthermore, one cannot assume that the executions were for sodomy solely on the basis of information from the Islamic State. Without evidentiary basis or independent confirmation, this sweeping allegation could be applied to anyone the Islamic State seeks to discredit—including human rights activists and anyone opposed to the Islamic State. Accusing opponents of homosexuality is a tried and true tool used to discredit political adversaries throughout the world.
Accuracy is absolutely needed to moderate the level of fear of LGBTI Iraqis living in areas controlled by the Islamic State. During the anti-emo killings in 2012, rumors circulated alleging that upwards of a thousand people had been killed for perceived gender and sexual non-conformity, while the documented number was nearer ten. In response, IGLHRC interviewed LGBTI Iraqis and found that some fled the country, were shunned, isolated themselves at home too afraid to venture into the streets, and experienced high levels of suicidal ideation. The stakes today are high enough; allies in the media, foreign governments, and among concerned friends globally must understand accurately what occurred and avoid risky inflations of the threat level.
The statement continues: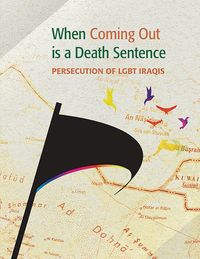 While the facts are unclear, the Islamic State's very public execution of these men and very public assertion that they were executed for homosexuality underscores the concerns that IGLHRC, Madre, and another co-author raised in a briefing paper issued in November, "When Coming Out is a Death Sentence." In addition to documenting ongoing persecution of LGBTI Iraqis, the briefing paper compelled the conclusion that LGBTI people (or anyone perceived as such) in Iraq were at imminent risk of death due to the stated intention of the Islamic State to kill anyone believed to be gay or engaged in same-sex activities. Its companion piece, "We're Here: Iraqi LGBT People's Accounts of Violence and Rights Abuses," a collection of personal stories from LGBT Iraqis, describes the human costs to a community that has been largely rejected by family, community, militias and the state.
Now that we have the Islamic State's own boastful declaration of responsibility for these tragic deaths, it is clear that our fears of heightened risk for LGBTI Iraqis at the hands of the Islamic State continue to be well-founded. Despite cautions at this time, IGLHRC and MADRE urge the international community to focus on the specific dangers LGBTI Iraqis face within the context of the broader national crisis, including by expediting support for internal and external resettlement of people fleeing due to persecution.
Read the IGLHRC report "When Coming Out is a Death Sentence: Persecution of LGBT Iraqis," AFTER THE JUMP…