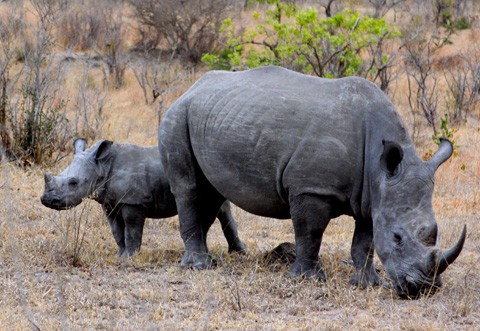 BY ERIN CONWAY-SMITH / GlobalPost
Authorities have started to relocate dozens of rhinos from poaching "hot spots" to safer locations.
JOHANNESBURG, South Africa — The situation for South Africa's rhinos just keeps getting worse.
On Thursday, the government announced rhinoceros poaching statistics for 2014, and it was another record year: 1,215 rhinos slaughtered illegally for their horns, a 21 percent increase from 1,004 in 2013.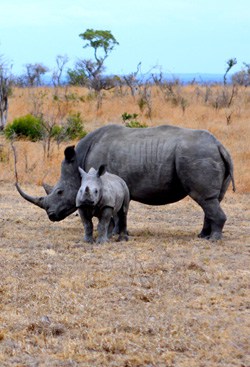 As in previous years, hardest hit were the rhinos at South Africa's famed Kruger National Park, home to the world's largest rhino population and the top target for organized crime groups, some of which operate from across the park's open border with Mozambique.
More than two thirds of the animals poached in 2014 were killed in the park — a shocking 827 rhinos, according to South Africa's environmental affairs ministry.
In 2007, just 13 rhinos were killed by poachers. That number has increased dramatically every year since, fueled by lucrative demand in Vietnam and China where rhino horn is considered "traditional medicine," and used to treat everything from cancer to a hangover despite no proof of any medicinal effect.
Out of desperation, South Africa has started to relocate dozens of the Kruger park's rhinos from poaching "hot spots" to safer locations, and last year even moved more than 100 to neighboring states for protection.
The reasons for the continuing rise in poaching — despite increased efforts to combat the problem — are complicated, but include corruption, institutional turmoil and judicial delays in key prosecutions, according to TRAFFIC, which monitors international trade in wildlife.
The number of animals being killed raises concerns that South Africa's rhino population may be in decline for the first time in nearly a century, the group said in a statement, meaning that more rhinos are dying than are being born.
"The lack of strong political will and active leadership from the government, neighboring Mozambique and key Asian countries remains a serious impediment to turning this crisis situation around," said David Newton, TRAFFIC's director in east and southern Africa.
(photos: andy towle)