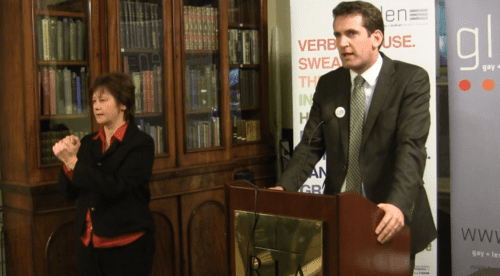 Aodhán O'Ríordáin (above right), a member of Ireland's lower parliamentary house and Equality Minister for the Labor party, has expressed his concerns for the country's upcoming referendum on same sex marriage. 
Despite multiple polls showing the Irish public's overwhelming support for gay marriage and thousands registering for the upcoming vote months in advance, O'Ríordáin fears that there isn't yet an effort substantial enough to galvanize voters. More than just the fate of LGBT rights in Ireland, the upcoming vote could ultimately affect the governmental coalition's already low approval ratings.
"If the vote were held next week – we would lose it," he said in an interview with the Irish Independent. "We need an all-out campaign and complacency is among our biggest problems."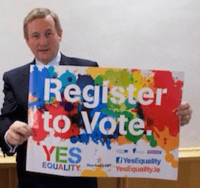 Ireland's Taoisceach (prime minister), Enda Kenny, has come out strongly in favor of gay marriage in recent months in an effort to show his centre-right party's (Fine Gael) commitment to equality. Late last year Kenny was frank in his proclamation that, contrary to popular belief, he was far from being socially conservative in his thinking.
For all of the seeming support behind a 'yes' vote in the referendum though, it is unclear how the Irish public will actually vote when the time comes.
"Ireland is still relatively conservative, and despite a falloff, a large proportion follows the Catholic faith, and that would have an impact on the outcome," said Richard Colwell, CEO of Irish polling firm Red C. "But at the same time, like in any European country, there is a large number of people who are more liberal on social issues."
Unsurprisingly, Ireland's archbishop, Eamon Martin, has come out strongly against same-sex marriage, saying he wants to share the "good news" about man-woman marriage in today's "hyper-sexualized world".
Listen to O'Ríordáin speak about supporting the Gay and Lesbian Equality Network's "Stop LGBT Hate Crimes" campaign AFTER THE JUMP…
Previously, "Colin Farrell Pleads with Irish People for Gay Equality in Emotional Letter about His Brother" [tlrd]