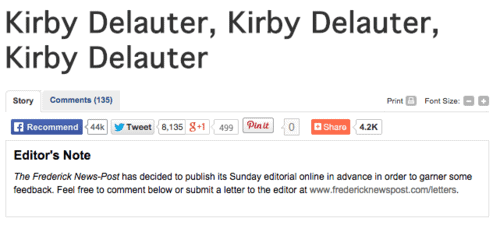 The Fredrick News-Post has a bone to pick with local councilmember (and part-time bully) Kirby Delauter. Over the weekend Delauter took to Facebook to lash out against News-Post reporter Bethany Rodgers for the "unauthorized use" of his name in what described as a "hit piece."
"Shame on Bethany Rodgers, for an unauthorized use of my name and my reference in her article today," he wrote in the message in which he actively tagged the journalist. "I had let her know after her hit piece during the election where she embellished, twisted and downright lied about what we discussed for that article, that she was never to never contact me again since she has absolutely no morals or journalistic ability."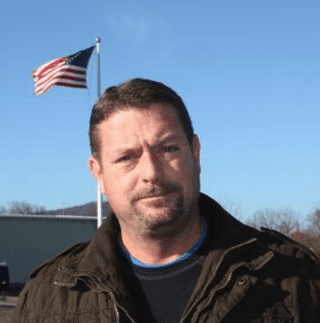 The article in question, that Delauter admits Rodgers attempted to speak with him about, focuses on the councilmember's alleged history of threatening the mayor of Myersville over a soured relationship between his construction company and the city itself. According to Rodgers, Delauter's prickly disposition ultimately lost him the political support of municipal officials in Myersville and Thurmont, a neighboring city. Instead, the conservative officials backed Delauter's Democratic opponent currently vying for his seat on the council.
In response to Delauter's threats of a lawsuit, the News-Post ran a subsequent article entitled "Kirby Delauter, Kirby Delauter, Kirby Delauter."  While Delauter may have been displeased with the News-Post's characterization of him, as a public figure the paper was well within its rights to run any piece about him that wasn't flat-out libel.
"Knowing Councilman Kirby Delauter as we do, we weren't surprised that he threatened The Frederick News-Post with a lawsuit because we had, he says — and we're not making this up — been putting Kirby Delauter's name in the paper without Kirby Delauter's authorization," the paper's editorial board mused. "In fact, we spent quite some time laughing about it. Kirby Delauter, an elected official; Kirby Delauter, a public figure? Surely, Kirby Delauter can't be serious? Kirby Delauter's making a joke, right?"
Regrettably, we'll never know whether Delauter's promise of litigation was purely for laughs. Late Wednesday evening his office eschewed Facebook posts and released a proper press release apologizing for his attempt at comedic political theater.
"The first amendment is alive and well in Frederick County," the statement reads. "As a public figure working to maintain and improve the county, it can be very frustrating to feel misrepresented or misinterpreted by a local media outlet."
"Of course, as I am an elected official, the Frederick News-Post has the right to use my name in any article related to the running of the county — that comes with the job. So yes, my statement to the Frederick News-Post regarding the use of my name was wrong and inappropriate. I'm not afraid to admit when I'm wrong."
Read Kirby Delauter's apologetic press release in full AFTER THE JUMP…