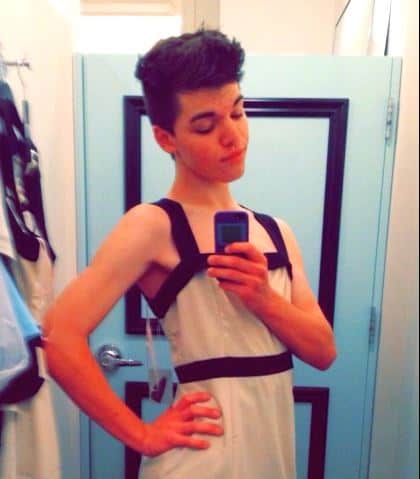 Speaking out publicly for the first time since trans teen Leelah Alcorn's suicide early Sunday, Carla Alcorn, Leelah's mother, has opened up to CNN about her daughter's depression in the lead-up to her death. 
It's an interview that also sadly illustrates the Alcorn family's continued transphobia, with Carla still referring to Leelah as her "son" and maintaining that her daughter's gender identity was somehow at odds with the family's religious beliefs. 
"We don't support that, religiously," Alcorn's mother told CNN, her voice breaking. "But we told him that we loved him unconditionally. We loved him no matter what. I loved my son. People need to know that I loved him. He was a good kid, a good boy."
Carla said that Leelah was depressed and that her child "quit talking about [being transgender]" after being taken to counselors and receiving medication from a psychiatrist.
In Leelah's suicide note published to Tumblr in the wake of her death, Leelah recounted her mother's "extremely" negative reaction to her coming out as trans:
"After 10 years of confusion I finally understood who I was. I immediately told my mom, and she reacted extremely negatively, telling me that it was a phase, that I would never truly be a girl, that God doesn't make mistakes, that I am wrong.
Leelah's letter also mentioned the religious counseling she receiving after coming out:
"My mom started taking me to a therapist, but would only take me to christian [sic] therapists, (who were all very biased) so I never actually got the therapy I needed to cure me of my depression. I only got more christians [sic] telling me that I was selfish and wrong and that I should look to God for help."
Carla added that her child came to her only once to talk about being transgender and that the first time she heard the name Leelah was on the teen's suicide note. 
Previously, "Dan Savage: Prosecute Transgender Teen Leelah Alcorn's Parents for Abuse" [tlrd]