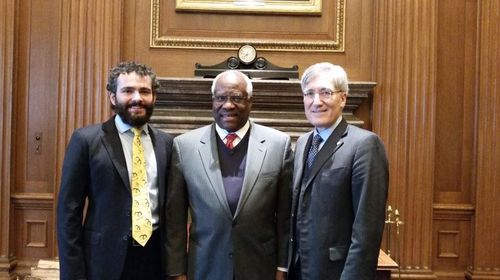 Jeremy Hooper over at Good As You has stumbled across the above photo of Supreme Court Justice Clarence Thomas posing with Robert George, the cofounder of the National Organization for Marriage, and Heritage Foundation staffer Ryan T. Anderson. 
Tweeted Anderson earlier today:
Justice Clarence Thomas just complimented me on my "Choose Life" tie. With @McCormickProf at #SCOTUS @March_for_Life pic.twitter.com/tLYEssMBOU

— Ryan T. Anderson (@RyanT_Anderson) January 22, 2015
Need a recap on these two anti-gay activists? Last July, Anderson proudly defended his bigotry in a Heritage video explaining why its logical to deny marriage's legal protections to gay couples. George, meanwhile, has questioned the "logical stopping place" between gay-affirming Christians and pedophile-affirming or serial killer-affirming Chirstians.   
Earlier this week, the virulently anti-gay American Family Association demanded Supreme Court Justices Elena Kagan and Ruth Bader Ginsburg recuse themselves from the upcoming gay marriage cases because both justices have been "partial" to same-sex couples wanting to tie the knot. Don't hold your breath though for AFA's call to action demanding Thomas stand down because he's been associating with anti-LGBT bigots now.