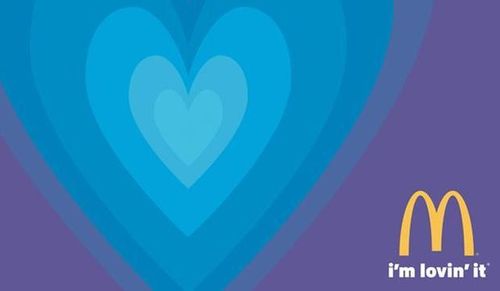 For years right-wing loons warned about the devastating consequences that might befall America should gay people be allowed to marry their loved ones – but no doomsayer could have predicted all our talk of love might lead to something like this…
The AP reports:
As the world's biggest hamburger chain fights to hold onto customers, the company unveiled a new marketing strategy and ads it says will emphasize the "love" in its long-running "I'm Lovin' It" slogan.
As part of the push, McDonald's released TV ads it says will begin airing this week, including an animated video where the Joker and the Batman, a mail man and a dog, a blue donkey and red elephant and Smurfs and Gargamel show affection to each other and share McDonald's products.
The upbeat spot ends with the words "Choose Lovin', " encompassed by a ring of hearts. 
McDonald's says it will also be "assuming less" and listening more to customers and pointed to the company's new campaign starring sellout former Mythbuster Grant Imahara that features customers asking tough questions about the fast food corporation's processed goodies.