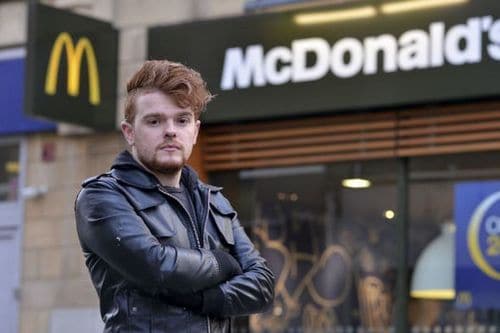 A security guard at a McDonald's in Leicester, England has been suspended after telling two gay man to stop kissing, claiming that the couple would make "people feel uneasy." One of the men, Matthew Dummigan (above), says he felt "insulted" and "belittled" and claims that the kiss he shared with his companion "wasn't even a proper kiss, it was a peck."
Dummigan asked the guard if his "no kissing" rule also applied to straight people. Apparently it didn't. The Leicester Mercury reports:
The 23-year-old said he then asked if it would be "acceptable" if his friend had been female – to which the doorman replied "yes". "He said it was making people feel uneasy.

"It was really upsetting for me." Matthew, of Leicester city centre, was with four friends at the time. "I tried to confront him about it," said Matthew. "I told him his attitude wasn't right. I was really angry and upset.

 "Gay people can get married and divorced, yet they get told off for showing a bit of affection – his attitude was so outdated. One of my friends stuck up for us and he got chucked out," he added.
The burger chain has suspended the security guard while they investigate and have apologized to Dummigan:
"We are very sorry for Mr Dummigan's experience when visiting our restaurant. We have taken this complaint very seriously and are conducting a thorough internal investigation and while this is happening have suspended the security guard in question. Our customer care team is in touch with Mr Dummigan."
The head of the Leicester LGBT Centre has issued a response saying that he's "disgusted but not surprised" about the incident. He added: "Things like this demonstrate that we are nowhere near where we should be when it comes to equality. We are around 25 to 30 years behind."