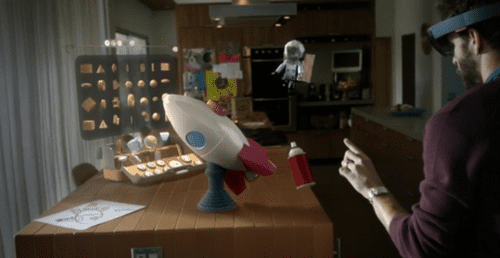 On Wednesday during a press event announcing a number of new features for Microsoft's Windows 10 operating system, engineer Alex Kipman took to the stage to unveil the company's latest foray into the world of holographic reality: HoloLens. Unlike Microsoft's Kinect, a product that Kipman also played an instrumental role in creating, HoloLens overlays the physical world with holographic objects that can be manipulated in three-dimensional space.
"We're not talking about putting you into virtual worlds," Kipman explained during his presentation. "We're dreaming beyond virtual worlds."
Kipman was quick to point out that HoloLens is more than peripheral meant to create a digital augmentable realities. Rather HoloLens is a fully fledged computing device that can operate independent of any outside hardware, allowing users to interact with their environments freely.
To get a better sense of just what Microsoft has in store for the future of wearable tech, check out The Verge's first digital dive with HoloLens AFTER THE JUMP…