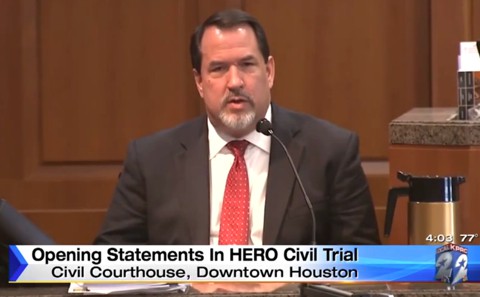 Allegations of fraud and forgery took center stage as a trial over Houston's Equal Rights Ordinance began this week, according to a report from The Houston Chronicle.
After the council approved the ordinance in May, anti-LGBT groups said they turned in more than 30,000 signatures on a petition to repeal it. However, city officials rejected the petition, saying it had only 16,500 valid signatures, fewer than the 17,269 needed to force the City Council to repeal the ordinance or place it on the ballot.
That prompted a lawsuit from opponents of the ordinance, led by former Republican Party Chair Jared Woodfill and Texas Pastor Council Executive Director Dave Welch (above). In court documents, the city has accused the anti-LGBT groups of fraud, forgery and other dishonest tactics in gathering signatures. From the Chronicle:
Attorneys for the city of Houston signaled in court Tuesday they intend to prove rampant fraud in a petition drive led by opponents of the equal rights ordinance who hope to force a repeal referendum. …

In his opening argument in court Tuesday, Alex Kaplan, an attorney for the city, said the petition is "full of problems." …

Andy Taylor (right), attorney for the plaintiffs, said any claims of fraud were untrue and the city's argument is "laughable." He said "well-intentioned voters from time to time didn't follow all the rules" but there was no fraud.

"They're talking about ticky tacky deficiencies like we're missing a comma or our signatures are hard to read," Taylor said. "Give me a break. Did our forefathers die in battle so that commas could prevent their children from voting."
Taylor told My Fox Houston that his clients will "fight to the legal death" to repeal the ordinance. And while the trial is focused on technical issues as opposed to the merits of the ordinance, Taylor's legal representation appears severely tainted by his bigotry. From My Fox Houston:
"Why in the world would we create a law that confers special rights on men who just want to pretend they are women so they can go into female restrooms in Houston and take advantage of young girls?" asks Taylor. …

Taylor claims this case is going to trial not because of an invalid petition but because Mayor Parker doesn't want the issue on the ballot.

"She just told her lawyers kill this thing. Smother this thing in the crib because she doesn't want voters to have a chance to pass on the lunacy of this bathroom ordinance. Well her day off reckoning is about to come," Taylor says. "We are very confident the jury, after it hears all the evidence, is going to say one thing, mayor you got it wrong. Let the people vote."
The city's lead attorney, Geoffrey Harrison, told Click2Houston.com that the people have already voted:
"The people elected Mayor Annise Parker and elected the members of City Council who voted for this ordinance."
The trial could last two months as jurors go over more than 5,000 pages of signatures to determine how many are valid.
Watch reports from My Fox Houston and Click2Houston.com, AFTER THE JUMP …