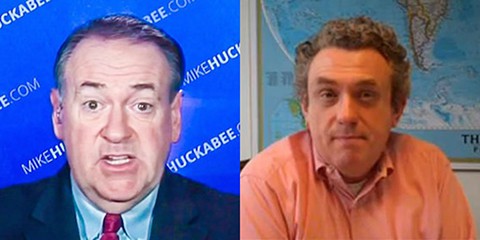 Former Arkansas Governor Mike Huckabee and anti-gay activist Austin Ruse will be headlining the annual conference of anti-gay Catholic organization Legatus after actor Gary Sinise, Fox News anchor Bret Baier and MolsonCoors Chair Pete Coors dropped out of the event citing the "controversy" surrounding Legatus' vitriolic stance on LGBT issues. In backing out of the event, Sinise, Baier and Coors all avoided tackling the substantive question of Legatus' hateful views. Joining Huckabee and Ruse will be Harry Kraemer, former CEO of Baxter International, Inc.
As Joe.My.God points out, Ruse was expelled from the anti-gay right wing group American Family Association (AFA) after stating, "hard-left human hating people" who run universities "should all be taken out and shot." According to Legatus, Ruse is "an expert on UN matters." In 2012, Ruse criticized the French government for then calling on the U.N. "to consider 'sexual orientation' and 'gender identity' new categories of non-discrimination in U.N. human rights treaties."
Also in attendance at Legatus' summit will be New York Archbishop Timoth Dolan and Louisiana Governor Bobby Jindal, among others.
In a statement responding to the cancellations from Sinise, Baier and Coors, Legatus claims that the LGBT community should not feel threatened by it or its rabidly anti-gay agenda:
LGBT groups should not feel threatened by our organization, whose mission is to study, live and spread our faith according to the teachings of the Catholic Church. At its core, this issue is about the freedom of Legatus members — in fact all Catholics, and by extension people of any religion — to have the freedom to exercise their religious beliefs, which includes the ability to gather together and discuss their faith.
You'll recall that Legatus promotes the idea that homosexuality is a "disorder" that can and should be "cured". You can read more on Legatus HERE.