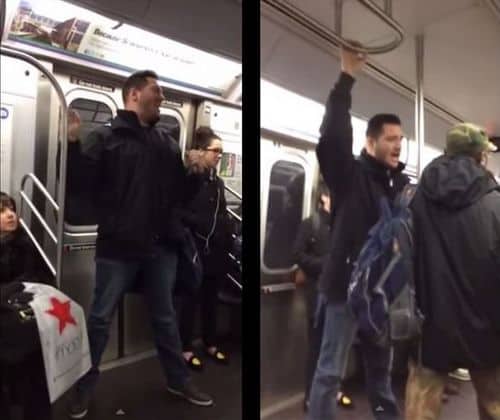 Fed up with the anti-gay ramblings of a subway preacher, one New Yorker decided the best way to drown out the hate was by belting out "I've Got a Golden Ticket" from Willy Wonka and the Chocolate Factory. 
Buzzfeed reached out to the singer to get his take on what went down:
I was riding the M train in from Bushwick when this man (who I've seen bothering riders before) begin preaching to passengers. Initially he was going on about fornication, okay fine. Then he started denouncing same sex relationships. It's an unpopular opinion in New York and it irritated me a bit, but I understand 1st Amendment rights, and didn't say anything. Then, his "preaching" shifted from a broad audience to a lesbian couple with their child. Asking, "What are you going to tell that child when he asks why you're living in sin and going to go to hell?" I decided that this guy wasn't going to get to talk anymore.
I myself and neither religious, nor gay, but if you want to live in this city, you need to learn how to be civil.
Hear, hear.
Watch, AFTER THE JUMP…
Issac Jaffe, the man who filmed the video, says NYPD later escorted the nutty preacher off the train.