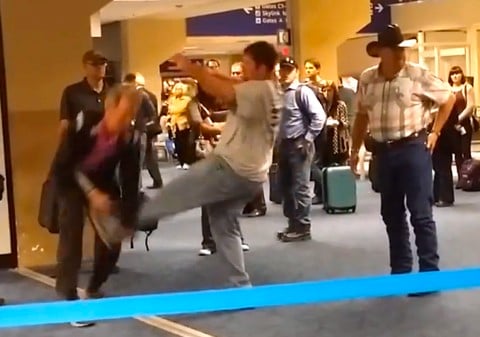 The passenger who went on a drunken, violent, anti-gay rampage that was caught on video at DFW International Airport in October will pay $474 in fines for the incident, according to a court spokeswoman.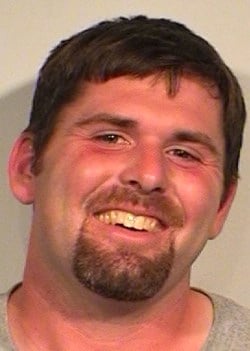 McCleish Christmas Benham (right), now 28, of Shelbyville, Tennessee, assaulted two people while yelling anti-gay epithets, before other passengers tackled him to the ground and he was arrested on Oct. 23. 
A bystander captured the incident on video and posted it on YouTube, where it's been viewed more than 5 million times.
Benham was charged with public intoxication and simple assault, both class-C misdemeanors each punishable by a maximum $500 fine, but no jail time. The case was referred to the Municipal Court in the city of Grapevine, Texas. 
Cindy Eteaki, court manager for the city of Grapevine, told Towleroad on Wednesday that Benham posted a cash bond to get out of jail and entered a conditional plea of no contest at the time. Because Benham failed to appear in court, his bond will be forfeited and he will be convicted on both counts, Eteaki said. Benham's bond was $262 dollars on the assault charge and $212 on the public intoxication, for a total of $474.
The FBI has declined to comment on whether it is investigating the incident as an anti-gay hate crime under the federal Matthew Shepard and James Byrd Jr. Hate Crimes Act of 2009. 
Expert Pete Schulte, an openly gay criminal defense attorney and former police officer from Dallas, has said he believes authorities mishandled the case — and Benham should have been charged with class-A misdemeanor assault, punishable by up to one year in jail: 
"I'm sure the individual who was punched felt a little pain based on the video," Schulte said. "Class-C assault is offensive contact without any pain.

"He could be charged with resisting arrest if they decide the person who broke his ankle was attempting to arrest him," Schulte added. "It appears that DFW airport police may have not done a great job in this case."
Benham had previously been in trouble for theft and animal abuse.  
Watch video of the attack, AFTER THE JUMP …