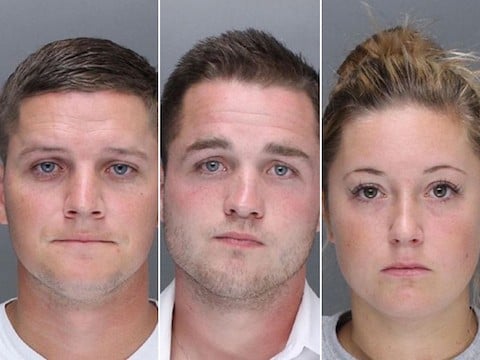 Last September a trio of horrible people were arrested on charges of assaulting a gay couple in Center City, Philadelphia, resulting in the hospitalization of the gay couple.  Due to lack of LGBT protections in Pennsylvania the assailants cannot be brought up on charges of hate crimes, so they have been arraigned on charges of aggravated assault, simple assault, and recklessly endangering another person (REAP). Phillip Williams and Kevin Harrigan are also charged with conspiracy.
Philadelphia Gay News reports:
A judge last month upheld all charges against the three, who have been out on bail since shortly after their Sept. 24 arrest. In the fall, Philadelphia adopted an LGBT-inclusive hate-crime law, but none of the defendants can be charged under it, since it was enacted after the incident. However, at last month's preliminary hearing, assistant district attorney Michael Barry, who is prosecuting the case, emphasized that the suspects' alleged anti-LGBT animus was a primary factor in the crime, and served as the basis for the conspiracy charge.
The trial isn't due to start until later this year, but we will be reporting on it once it begins.