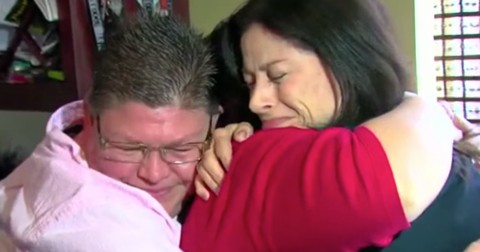 A pro bono attorney who's challenging Michigan's same-sex marriage ban is publicly criticizing national LGBT organizations for failing to adequately support her efforts. 
Dana Nessel, co-counsel for Michigan marriage plaintiffs April DeBoer and Jayne Rowse (all three shown above), told Bloomberg Politics that attorneys from national LGBT organizations initially tried to dissuade her from filing the case because they said it didn't fit into their national strategy. When Nessel and her clients began to have success, she said organizations wanted to take over the case. After she refused, they denied requests for financial assistance, all the while using the case to raise money for themselves. 
From Bloomberg Politics: 
An historic triumph for gay marriage may be within reach this spring on the biggest possible stage, but attorney Dana Nessel's chief frustration at the moment is actually not anti-gay opponents. Rather, she's taking aim at an unlikely target: the biggest, richest civil rights and gay rights organizations, all of which have left her team to beg and scrape for the estimated $1 million they need to litigate at the Supreme Court. "Nobody even wanted us to file this case, they all tried to stop us, and even now they're not helping much," she says tartly. "The great irony is, we're the ones going to the Supreme Court."
Private attorneys handling same-sex marriage cases in other states echoed some of Nessel's complaints, which are certainly nothing new to the movement. If you'll remember, national LGBT orgs didn't initially support the lawsuit challenging California's Prop 8, which was ultimately funded by the American Foundation For Equal Rights. 
However, one of the attorneys serving as Nesser's co-counsel in the Michigan case, Carole Stanyar (right), painted a slightly different picture in a statement to Daily Kos' Kerry Eleveld: 
"While this article is mostly accurate in detailing our experience with the civil rights and gay organizations, it grossly understates the contributions of both GLAD and Lambda Legal. Mary Bonauto (GLAD) helped us the moment we asked her and has never stopped helping us. She is our co-counsel and deserves to be acknowledged. Throughout the case, Lambda has provided a great deal of assistance to us also. They helped us — any time we asked — to locate trial witnesses, to garner resources and research from around the country, and to help fund one of our expert witnesses (a $13,000 contribution). I was aware of a 'national strategy' to avoid the states in the Sixth Circuit, however, I don't recall either GLAD or Lambda ever discouraging us from filing or pursuing this lawsuit." 
According to Bloomberg, Lambda Legal was the only organization that responded to requests for comment about Nessel's complaints: 
Lambda's Marriage Project director Camilla Taylor (right) rejected the criticism, insisting: "We don't ever try to take over someone's case. To my knowledge [the Michigan attorneys] are thrilled with all of the help we have provided, including financial resources." She would not specify what those resources were and would not respond to questions about whether the group advised various plaintiffs not to file their suits. Attorney-client privilege extends to potential clients even if they don't end up retaining the organization, Taylor said.
Certainly there are valid points on both sides of this debate, but as gay PR guru Bob Witeck (right) suggests in the Bloomberg piece, now's not the time for bickering: 
While national groups pressured Nessel to back off her critique for this report, unaffiliated activists say blaming her for speaking out is yet another illustration of the problem. "This is the case of our lifetime," said Bob Witeck, a public-relations strategist who has worked with Human Rights Campaign and the National Lesbian and Gay Journalists Association, and advises American Airlines on their gay marketing outreach. "If others are raising large chunks of money and they're not feeding and servicing the lawyers and the litigants in these cases, what are we giving it to? There can't be weak links. We have to have our 'A' game going in. There can't be any part of this defense that isn't fully prepared."
On that note, you can contribute to the Michigan marriage effort here. 
And watch the touching video of Nessel and her clients celebrating a federal judge's decision to strike down the state's marriage ban in 2014, AFTER THE JUMP …