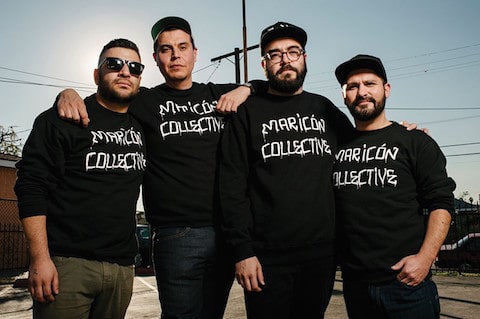 Rudy Bleu, Carlos Morales, Manuel Paul and Michael Rodriguez: these four men are all from east of the L.A. River, are all in their 30s, all Latino, and all gay. They also all have a fondness for Chicano-inspired art and music, which drove them to create their art and DJ collective, Maricón Collective.
"Maricón", for the unfamiliar, is the Spanish word for "faggot", with all of the same hateful connotations. Rodriguez says, "Growing up, I never wanted to be [called maricón]; I didn't want to relate to it. We grew up in very machismo families and it was always looked down upon." 
The quartet named their group as a way to reclaim the term and turn it around to focus on something positive. Maricón Collective hosts dance parties, picnics and brunches throughout L.A. and provides a focus on queer Chicano art and music. Their first party last April was such a success that they wound up with booked weekends for virtually the entire summer, turning into throwbacks of the "Backyard Boogie" parties they knew while growing up, complete with a friendly and familial vibe.
LA Weekly has a thorough rundown of the group from where they've been to where they're going, and you can follow Maricón Collective on their Facebook page and keep track of all of their latest activities.