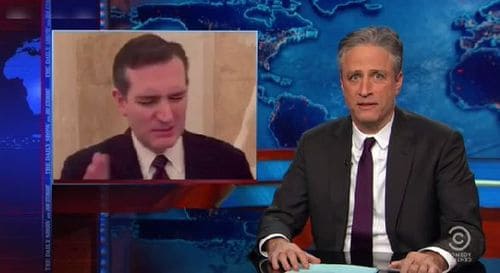 With the State of the Union address behind us, Jon Stewart took an exasperated look last night at the many nominees for this year's Implody Award for "outstanding achievement in unforced response speech errors."
Nominees included Senator Jodi Ernst for her mind-numbing official GOP response, Rep. Curt Clawson for his rambling Tea Party response and Senators Rand Paul and Ted Cruz for their own ego-driven personal responses. 
Stewart, before awarding this year's Implody to Cruz, offered up some sage advice to the Texas firebrand:
"If you're looking to run for president, maybe you shouldn't make your response to the State of the Union look like a ransom video…or the part of the porno everybody fast forwards through."
Watch, AFTER THE JUMP…