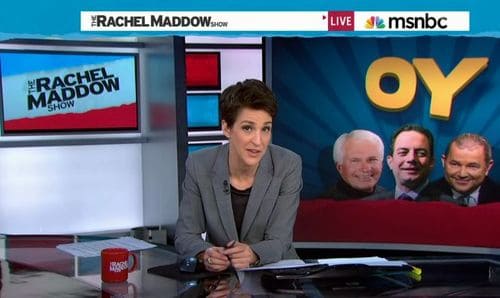 Last night, MSNBC host Rachel Maddow continued to shine a spotlight on the American Family Association's efforts to distance itself from radio host Bryan Fischer in the lead up to a Republican National Convention trip to Israel backed by the AFA. Maddow, who broke the story of Fischer's firing Wednesday, pointed out some choice quotes by Fischer and questioned why the RNC would continue with the trip in light of the fact that Fischer was being kept on as AFA radio host.
The RNC, for its part, issued the following statement to MSNBC last night after days of refusing to comment:
"We don't agree with Bryan Fischer's comments and are glad AFA has severed ties with him."
Maddow, of course, wasn't buying it and devoted the latter portion of her segment to doing what she does best – taking a magnifying glass to the GOP's longstanding policy of cozying up next to extremist organizations and figures. 
Watch, AFTER THE JUMP…