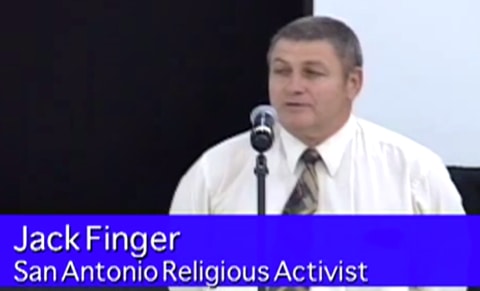 Last month, we reported that a Republican Party committee in San Antonio had submitted a resolution to the county GOP calling for "the repeal of our local governments' pro-homosexual policies." 
The resolution, authored by anti-gay activist Jack Finger (above), demanded that GOP elected officials roll back the city's LGBT-inclusive nondiscrimination ordinance, as well as domestic partner benefits for city and county employees. Otherwise, the proposal threatened, voters would "'throw the rascals out' and elect officials who will carry out the resolution." 
On Jan. 8, the Bexar County GOP Executive Committee rejected the resolution, according to San Antonio gay Republican Justin Nichols. OutInSA reports:  
"The resolution in question was the last agenda item," says Nichols. "After Mr. Finger's fear mongering presentation, the floor was opened for discussion. Not a single precinct chair spoke in favor of the resolution, with at least four other people speaking against it on various grounds. I spoke last, and the question was called. I don't recall the exact vote, but it was approximately 54-21, a margin of nearly 2 to 1, rejecting the resolution, which was then declared to have failed."

Nichols says he told the assembly that the resolution did not reflect the "true priorities of the party" but reflected "one man's peculiar obsession with the topic of sexuality."

Nichols added that Finger was alone in spreading his anti-LGBT message. "Beside Jack's befuddled scrambling to hand out his classic bush-league leaflets, and his own absurd explanation of the NDO, not a single person at the meeting spoke a word of disdain or disrespect for any LGBT person or group.  I was really very pleased at the speed with which the party ended Jack's charade and got on to real business."
Although it's commendable that the precinct chairs rejected the resolution, it's still disturbing that one-third of them voted in favor of it. Sadly, it's this one-third that is most active in party primaries and maintains a virtual stranglehold on the Texas GOP. Which explains why Republican state lawmakers have introduced legislation that would ban local LGBT protections and punish county clerks for issuing same-sex marriage licenses. 
But hey, baby steps, right?